Hudson Pierce-

You act so high and mighty, you and your perfect pregnant wife Alayna. With your perfect child and your perfect home.

You weren't always perfect. Your past is filled with misdeeds.

Does your wife know all your secrets?

Would she stand behind you if she did?

You think because she's on bedrest you can protect her? How sweet.

Sleep tight, you two.

-An Old Friend.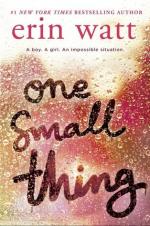 One Small Thing

by

Erin Watt

June 26th 2018
Beth's life hasn't been the same since her sister died. Her parents try to lock her down, believing they can keep her safe by monitoring her every move. When Beth sneaks out to a party one night and meets the new guy in town, Chase, she's thrilled to make a secret friend. It seems a small thing, just for her.

Only Beth doesn't know how big her secret really is…

Fresh out of juvie and determined to start his life over, Chase has demons to face and much to atone for, including his part in the night Beth's sister died. Beth, who has more reason than anyone to despise him, is willing to give him a second chance. A forbidden romance is the last thing either of them planned for senior year, but the more time they spend together, the deeper their feelings get.

Now Beth has a choice to make—follow the rules, or risk tearing everything apart…again.
Blaire has never quite gotten over Jessie Beckett, the ex–NFL star whose kisses were hot enough to ignite the entire Eastern Seaboard. When he chose work over her, Blaire was left brokenhearted. Why else would she have married a skeezy two-timer, just to divorce him less than a year later?
Now Blaire is getting even by becoming one half of Dirty Exes, a PI firm fully committed to humiliating cheating jerks. If only the new jerk she's been hired to uncover wasn't Jessie Beckett himself.
Exposing Jessie isn't going to be easy, especially when she still daydreams about his sexy smile. Further complicating matters is Colin, Jessie's best friend. He's gorgeous, a little bit cunning, and willing to help Blaire get the inside scoop on Jessie—for a price.
Now caught between two men—one totally right and the other totally wrong—Blaire will need to decide just how much she's willing to risk…and whom she's willing to risk it for.
Head of the class...

Garrett Daniels has this whole life thing figured out.

The cocky, charismatic former high school star quarterback is an idolized football coach and "cool" teacher in the hometown where he's not just a golden boy—he's platinum. He has good friends, a great house on the lake, and the best damn sidekick a man could ask for: Snoopy, the albino beagle.

Then...Callie Carpenter comes home.

And knocks him right on his tight end zone.

Back to school...

Callie has a pretty sweet life herself...on the other side of the country. But circumstances—that she'd prefer to never speak of again—have brought her back home, helping out her parents and substitute teaching at her old high school.

Now she's facing bickering, raging hormones, constant gossip, awkward weirdness, and drama galore...and that's just the teachers.

Just like old times...

When Garrett offers to show his former high school sweetheart the secrets of his winning teacher ways, Callie jumps at the chance—and then has to stop herself from jumping him.

Good friends are all they can ever be.

Or...these teachers just might end up getting schooled—hard—by love.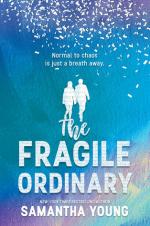 The Fragile Ordinary

by

Samantha Young

June 26th 2018
I am Comet Caldwell.

And I sort of, kind of, absolutely hate my name.

People expect extraordinary things from a girl named Comet. That she'll be effortlessly cool and light up a room the way a comet blazes across the sky.

But from the shyness that makes her book-character friends more appealing than real people to the parents whose indifference hurts more than an open wound, Comet has never wanted to be the center of attention. She can't wait to graduate from her high school in Edinburgh, Scotland, where the only place she ever feels truly herself is on her anonymous poetry blog. But surely that will change once she leaves to attend university somewhere far, far away.

When new student Tobias King blazes in from America and shakes up the school, Comet thinks she's got the bad boy figured out. Until they're thrown together for a class assignment and begin to form an unlikely connection. Everything shifts in Comet's ordinary world. Tobias has a dark past and runs with a tough crowd—and none of them are happy about his interest in Comet. Targeted by bullies and thrown into the spotlight, Comet and Tobias can go their separate ways…or take a risk on something extraordinary.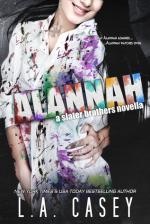 Alannah Ryan is plagued by an old face haunting her dreams, turning her waking hours into a mess of worry. Talking it out with the person she loves the most isn't a possibility, not when the same face haunts him, too.

To protect the love of her life from another burden, she keeps her fear to herself, even as that fear begins to consume her.

Damien Slater has the life he always wanted with the woman he adores by his side, but there's a problem. His woman is keeping a secret, and they swore they would never let another secret come between them again.

Breaking Alannah's guard will be Damien's greatest challenge yet as he proves once and for all that he is in it for the long haul.

Alannah admires Damien, and what Alannah admires, Alannah watches over.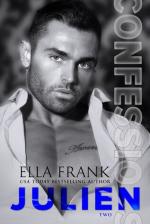 People are complex.
Love a double-edged sword.
And when it comes to a broken heart, there are no rules, only time…

For the past eight years, Julien Thornton has been living with a secret. One that only a handful of people know about.

To the outside world, he has it all.
A thriving career. A loving husband. And a face that the American public fell for by the millions, on a reality show that inadvertently saved his life.

But behind the shine of celebrity, behind the easygoing nature, a crippling truth fills Julien with pain and self-loathing. It's a truth that he fights to overcome daily with the help of his husband, Joel Priestley, and now their boyfriend, Robbie Bianchi.

But unlike Priest, Robbie doesn't know what he's helping Julien to fight. He doesn't know what Julien did all those years ago. And with the anniversary of his sister's death fast approaching, the time for explanations is running out.

And thus the question: will the princess be able to forgive the prick as the priest once did?

Only time will tell.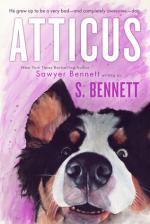 Atticus: A Woman's Journey with the World's Worst Behaved Dog

by

Sawyer Bennett

June 12th 2018
A heart-warming and deliciously funny story about the world's worst behaved dog and how he trained his human how to love herself again.

Through the haze of vodka and self-loathing, Hazel Roundtree saw the poor creature lying in a ditch.

One brown eye. One blue.
Covered in mud and crying from pain, the puppy was desperately trying to free itself from a hopeless situation.

She almost kept walking by. She had her own problems and besides… no one had ever stopped to help her.

Who we're ultimately meant to be is a journey without end, but there's always a defined start…

Hazel had no idea the dog would be her beginning, her second chance, the miracle she never saw coming. She named him Atticus. He grew up to be a very bad—and completely awesome—dog. He took Hazel on a life-changing journey filled with mischievous adventure and painful heartbreak. In the end, Hazel grew up to be completely awesome, too.