To Be Read In April
Given his well-earned bad boy reputation, Eric is having a tough time scoring.. When single Jean moves to town, she seems heaven sent by the sex gods. Only problem is, she not only wants nothing to do with him, but it turns out that she's pregnant.

Starting over in a small town, Jean is determined to turn her wild lifestyle around and be the kind of mother she always wished she'd had. Since local bar owner and all round hottie, Eric Collins, is now determined to steer clear of her pregnant self, it should be easy. When she goes into labour during a snow storm and her car slides on some ice, it's Eric who comes to the rescue.

There seems to be a bond between them now, but is it enough? And can Eric give up his manwhore ways to be the man Jean needs?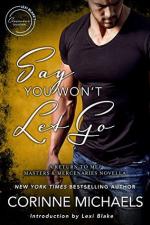 Emily Young had two goals in her life:
1. Make it big in country music.
2. Get the hell out of Bell Buckle.

She was doing it. She was on her way, until Cooper Townsend landed backstage at her show in Dallas.

This gorgeous, rugged, man of few words was one cowboy she couldn't afford to let distract her. But with his slow smile and rough hands, she just couldn't keep away.

With outside forces conspiring against them, Cooper hires the McKay-Taggart team to protect her. Emily refuses to let Cooper get hurt because of her. All she wants is to hold onto him, but she knows the right thing to do is to let go . . .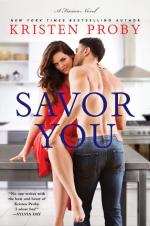 In the next sizzling romance in Kristen Proby's New York Timesbestselling Fusion series, two celebrity chefs compete in a culinary competition, but resisting each other will prove to be the greater challenge.

Cooking isn't what Mia Palazzo does, it's who she is. Food is her passion . . . her pride . . . her true love. She's built a stellar menu full of delicious and sexy meals for her restaurant, Seduction. Now, after being open for only a few short years, Mia's restaurant is being featured on Best Bites TV. To say Seduction is a wild success is an understatement. All the blood, sweat, tears, and endless hours of work Mia has put into the restaurant has finally paid off.

Then Camden Sawyer, the biggest mistake of her life, walks into her kitchen . . .

Camden's celebrity chef status is world-renowned. He's the best there is, and the kitchen is where he's most at home. He can't resist the invitation to Portland for a showdown against Mia for a new television show. Mia was in his life years ago, and just like before, he's met his match in the beautiful Italian spitfire. The way she commands the kitchen is mesmerizing, and her recipes are clever and delicious. He's never had qualms about competition, and this is no different. He can't wait to go head to head with Mia. But can he convince her the chemistry they share in the kitchen would be just as great in the bedroom as well?

As Mia and Camden face off, neither realizes how high the stakes are as their reputations are put on the line and their hearts are put to the ultimate test.
Abigail Haddock is stunning, sensible, and some would say…stuffy. But it's not really her fault. She was raised in one of Wessco's oldest, most affluent, aristocratic families—"stuffy" is their middle name. So is successful. Abby's working overtime to distinguish herself as a top-notch physician, just as her family legacy demands.

She doesn't have time for nonsense.

Tommy Sullivan's all about nonsense.

Sure, he's an elite bodyguard with lethal skills and co-owner of the renowned, S&S Securities Firm—protector of the wealthy and titled. But he's also rowdy, fun and thoroughly irresistible.

Tommy knows how to have a good time, and he's never seen someone more in need of a good time than Abby. The lass needs long, wet, filthy kisses—STAT—and he's just the man for the job.

It doesn't take long for a wildly sexy, sinfully satisfying, no-strings attached arrangement to turn into something more. Something sweet and addictive and real. But Tommy and Abby are too royally stubborn to admit it.

Opposites attract, everyone knows that. But can they last—can they love…for forever?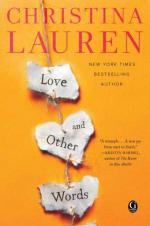 Love and Other Words

by

Christina Lauren

April 10th 2018
Love, loss, friendship, and the betrayals of the past all collide in this first women's fiction novel from New York Times and #1 international bestselling author Christina Lauren (Autoboyography, Dating You / Hating You).

The story of the heart can never be unwritten.

Macy Sorensen is settling into an ambitious if emotionally tepid routine: work hard as a new pediatrics resident, plan her wedding to an older, financially secure man, keep her head down and heart tucked away.

But when she runs into Elliot Petropoulos—the first and only love of her life—the careful bubble she's constructed begins to dissolve. Once upon a time, Elliot was Macy's entire world—growing from her gangly bookish friend into the man who coaxed her heart open again after the loss of her mother...only to break it on the very night he declared his love for her.

Told in alternating timelines between Then and Now, teenage Elliot and Macy grow from friends to much more—spending weekends and lazy summers together in a house outside of San Francisco devouring books, sharing favorite words, and talking through their growing pains and triumphs. As adults, they have become strangers to one another until their chance reunion. Although their memories are obscured by the agony of what happened that night so many years ago, Elliot will come to understand the truth behind Macy's decade-long silence, and will have to overcome the past and himself to revive her faith in the possibility of an all-consuming love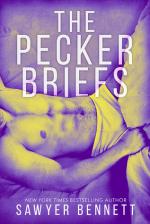 I never thought a pecker would get me in so much trouble.

I mean, sure… if you're talking about a certain anatomical feature of mine that the ladies just love. Given my bachelor status and appreciation for all things curvy and feminine, I could absolutely see that. But a different pecker is making my life much harder than it needs to be.

My name is Ford Daniels, partner at the law firm of Knight & Payne, and my latest case has me wading through the finer points of peckers—woodpeckers that is. Specifically, the red-cockaded woodpecker. I swear, I can't make this stuff up but that's what the sexy-as-hell blonde chained to a tree told me this morning.

Her name is Viveka Jones and she is so much more than a pretty face. She's got wit, charm, and razor-sharp smarts. Turns out my client is looking to bulldoze the red-cockaded woodpecker's natural habitat in favor of a multimillion-dollar subdivision and the sexy attorney with legs for days (and days), just happens to be counsel for an animal rights group looking to put a halt to construction.

My client's pissed, but all I can think about is getting Viveka across the table from me. And then on the table underneath me. Perhaps up against the wall. And then—

Well, let's just say when it's all said and done, I'm hoping the red-cockaded woodpecker isn't the only pecker that gets some attention from Miss Viveka Jones.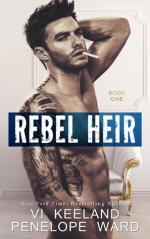 How to kick off a great summer in the Hamptons:
Snag a gorgeous rental on the beach. Check.
Get a job at a trendy summer haunt. Check.
How to screw up a great summer in the Hamptons:
Fall for the one guy with a dark leather jacket, scruff on his face, and intense eyes that doesn't fit in with the rest of the tony looking crowd. A guy you can't have when you'll be leaving at the end of the season.
Check. Check. Check.
I should add—especially when the guy is your sexy, tattooed God of a boss.
Especially when he not only owns your place of employment but inherited half of the town.
Especially when he's mean to you.
Or so I thought.
Until one night when he demanded I get in his car so he could drive me home because he didn't want me walking in the dark.
That was sort of how it all started with Rush.
And then little by little, some of the walls of this hardass man started to come down.
I never expected that the two of us, seemingly opposites from the outside, would grow so close.
I wasn't supposed to fall for the rebel heir, especially when he made it clear he didn't want to cross the line with me.
As the temperature turned cooler, the nights became hotter. My summer became a lot more interesting—and complicated.
All good things must come to an end, right?
Except our ending was one I didn't see coming.
Rebel Heir is the first book in the Rush Series Duet. Book Two, Rebel Heart, will release six weeks later on May, 22, 2018.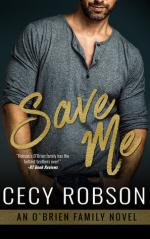 Three weddings. No date. What's a hot stud to do when all the women on his speed dial are either serving dinner to their families or serving time?

Out of all the O'Briens, Seamus is the best-looking, most creative, and, did I mention, best-looking? Single at almost forty wasn't a big deal until every sibling in his large and loud Irish family found "the one." Now, he's desperate for a wedding date, one he doesn't have to worry will make out with the limo driver or rob the bride and groom blind.

Allie Mendes is the good daughter, who's spent her life living in her perfect sister's shadow. But when her sister steals the man Allie was supposed to marry, that shadow she's lived in threatens to swallow her whole. Allie wants to believe a bright future awaits. But when she begs God to save her from this disastrous twist of fate, the last person she expects Him to send her is Seamus O'Brien.

Allie needs a stand-in boyfriend to avoid appearing as lonely as she feels. Seamus needs a decent woman without an ankle bracelet or a rap sheet as long as his muscular arms. The two make a deal to pose as each other's perfect date. But weddings mean romance and a chance at forever neither had planned.