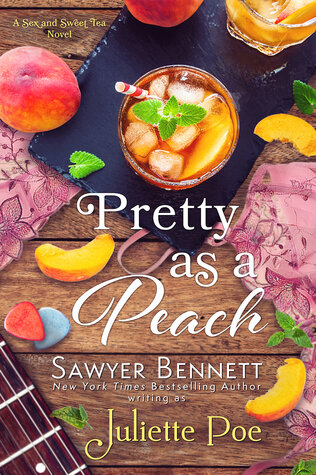 Mainer Farms is steeped in family history, but it's also deep in debt from the effects of the ever-changing farming industry. Not about to let his family's legacy go under, Colt Mancinkus is willing to do anything he can to save the farm.

Darby Culhane is the new farmer in Whynot, North Carolina, and she's proving to be quite the forbidden temptation for Colt. Darby isn't looking for anything but a fresh start, and she's got it all figured out. Get settled in? Check. Apply for the rural county grant? Check. Confrontation with the steaming mad, smoking hot local farmer? Well, that wasn't on the agenda.

As pretty as she is sweet, Colt can't help but be drawn to Darby's…peaches. No really, she's a peach farmer. Get that mind out of the gutter, and get on down to the farm to see what happens when circumstances force Colt and Darby to team up. They may just find that the peach trees aren't the only things in bloom.
Review
I was lucky to receive an ARC! Yep I'm a lucky girl! If you know me a little bit you must know that I'm a huge Sawyer Bennett!! alias Juliette Poe! You know it, right?! You really can't miss it while reading this blog! The Sex and Sweet tea serie is one of my fav', because it's always sweet... when you read one of the book of this serie, it's always the same feeling..." Home sweet Home" even if I'm french and I don't know the US at all... but Whynot, these people, you learn to love them while reading these books...Family first is one of the most powerful feeling in this book...they're loyals, honest, and work hard!
Colt is the younger brother, the farmer! He want to keep the farm running so for this to happen he need to expand... but He's not the only one who want the land..Darby is trying to divorce an abusive and controling husband, came in Whynot with her daughter Linnie, to start a new life for them both... The attraction between Colt and Derby is there from the beginning...Darby did the sweetest thing for Colt...and from there.. a relationship start between them... Friendship...and more?! Nothing will gonna be easy...a dangerous ex...A daughter who doesn't want to be here...Rumors..
Like always, with Juliette Poe, it's sweet, funny and very well written...
and I can't wait to read the next one... I can't wait for Larkin's book now : ))
3/5