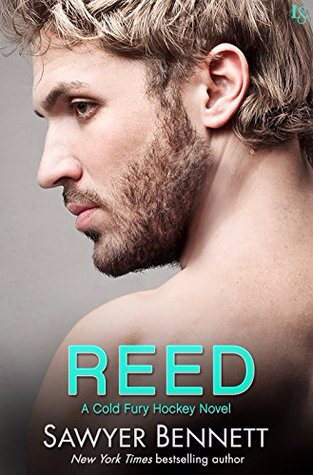 Reed (Cold Fury, Book #10) Sawyer Bennett Release Date: February 6, 2018
Synopsis: Hockey season may be over, but in New York Times bestselling author Sawyer Bennett's new novel, a Carolina Cold Fury heartbreaker is heating things up off the ice and eager to score with the girl next door. No one skates like Reed Olson. In the off-season, no one plays like him either. After back-to-back championships, Reed craves a different kind of action. Good thing there's no shortage of women ready for a summer fling with a sports star. Reed has a specific type—blond, busty, not too bright—and a little black book full of options. But when his bed starts rocking, it's his unexpectedly sexy neighbor who comes knocking. And the brainy beauty is impossible to ignore. Josie Ives desperately needs something her celebrity neighbor obviously doesn't: sleep. His headboard banging against the wall is keeping her up at night—not to mention inspiring some very naughty dreams. Reed is everything she imagined: a little too good-looking, with a body that puts Greek gods to shame. But he's also funny and charming—a tempting combination. Josie's the opposite of his type, yet the chemistry between them is undeniable. Their friendship certainly has its benefits, and it's heating up to be so much more.
Sawyer Bennett's New York Times bestselling Carolina Cold Fury series can be read together or separately.
Goodreads Link: https://www.goodreads.com/book/show/35083845-reed
Purchase Reed (Cold Fury, Book #10):
Amazon: http://amzn.to/2xD3wdr
iBooks: http://apple.co/2xvVzq3
Google Play: http://bit.ly/2wUuADW
Kobo: http://bit.ly/2rdKg2B
Audible: http://adbl.co/2DHR6mO
Review
I'm gonna be honest I like this one but not as much as the other one! sorry but hey it was good! it was just a little less "something" for me... Reed is a manwhore, who has a type... Barbie type... his new neighbor is not one of them! she's beautiful but not his usual... and she's smart! she's a ER doctor! Their meeting reminded me of Wallbanger of Alice Clayton... Yeah the bang of his bed on the wall... the wall of both of their bedrooms...Josephine want just to sleep, because she work hard and she need her sleep...so she went to see his neighbor... her attractive and funny neighbor...they became fast friends... but Reed want more...He know she special...she's one of the kind...Josie feel the attraction too, but she's not sure...
To neightbor...to friends... to lover's story!
Like always is funny and sweet! and so well written...
I just can't wait to read Marek story now... because I'm sure it will be one hell of a ride! :)) I can't spoiled you but oooh <3
3/5
About the Author:
Since the release of her debut contemporary romance novel, Off Sides, in January 2013, Sawyer Bennett has released multiple books, many of which have appeared on the New York Times, USA Today and Wall Street Journal bestseller lists. A reformed trial lawyer from North Carolina, Sawyer uses real life experience to create relatable, sexy stories that appeal to a wide array of readers. From new adult to erotic contemporary romance, Sawyer writes something for just about everyone. Sawyer likes her Bloody Marys strong, her martinis dirty, and her heroes a combination of the two. When not bringing fictional romance to life, Sawyer is a chauffeur, stylist, chef, maid, and personal assistant to a very active daughter, as well as full-time servant to her adorably naughty dogs. She believes in the good of others, and that a bad day can be cured with a great work-out, cake, or even better, both. Sawyer also writes general and women's fiction under the pen name S. Bennett and sweet romance under the name Juliette Poe.
Connect with Sawyer:
Facebook: https://www.facebook.com/bennettbooks
Twitter: https://twitter.com/BennettBooks
Instagram: https://instagram.com/sawyerbennett123/
Goodreads: https://www.goodreads.com/Sawyer_Bennett
Book+Main Bites: https://bookandmainbites.com/sawyerbennett
Sign up for Sawyer's newsletter: http://sawyerbennett.com/signup/