To Be Read
Brooklynaire

by

Sarina Bowen

February 12th 2018
You'd think a billion dollars, a professional hockey team and a six-bedroom mansion on the Promenade would satisfy a guy. You'd be wrong.

For seven years Rebecca has brightened my office with her wit and her smile. She manages both my hockey team and my sanity. I don't know when I started waking in the night, craving her. All I know is that one whiff of her perfume ruins my concentration. And her laugh makes me hard.

When Rebecca gets hurt, I step in to help. It's what friends do. But what friends don't do is rip off each others' clothes for a single, wild night together.

Now she's avoiding me. She says we're too different, and it can never happen again. So why can't we keep our hands off each other?
Hockey season may be over, but in New York Times bestselling author Sawyer Bennett's new novel, a Carolina Cold Fury heartbreaker is heating things up off the ice and eager to score with the girl next door.

No one skates like Reed Olson. In the off-season, no one plays like him either. After back-to-back championships, Reed craves a different kind of action. Good thing there's no shortage of women ready for a summer fling with a sports star. Reed has a specific type—blond, busty, not too bright—and a little black book full of options. But when his bed starts rocking, it's his unexpectedly sexy neighbor who comes knocking. And the brainy beauty is impossible to ignore.

Josie Ives desperately needs something her celebrity neighbor obviously doesn't: sleep. His headboard banging against the wall is keeping her up at night—not to mention inspiring some very naughty dreams. Reed is everything she imagined: a little too good-looking, with a body that puts Greek gods to shame. But he's also funny and charming—a tempting combination. Josie's the opposite of his type, yet the chemistry between them is undeniable. Their friendship certainly has its benefits, and it's heating up to be so much more.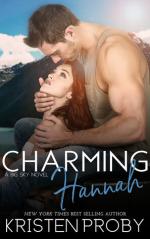 Hannah Malone loves her new town. Despite living in Cunningham Falls for five years, she's still considered a "move in" by most of the locals, and that doesn't bother her in the least. She's the "new girl", and she hasn't regretted it for one day. This town is her sanctuary. Her home. The one place she finally fits in and feels safe after a lifetime of being different and running from the memories and a past so far away it can't haunt her anymore.

As the newly appointed police chief, Brad Hull has the responsibility to keep his citizens safe and to maintain order. His roots in this town are deep—five generations deep, to be exact. Cunningham Falls, Montana is his town, and being a cop and protecting what's his is his passion. Everything's running like clockwork until a sassy redheaded doctor moves in and disrupts the order—and Brad's focus.

She's not just beautiful, funny, and strong. Hannah's everything he's been looking for in a woman. The chemistry is undeniable, and the heat in the bedroom is off the charts. Brad knew the minute he met Hannah that she was the one for him. He's tenacious in his pursuit of her. But when the past catches up with Hannah, will Brad be able to protect her and their hearts?
Forget You, Ethan

by

Whitney G.

February 28th 2018
Keep your friends close and your enemies closer...

I've hated Rachel Dawson since I was seven years old. My next door neighbor and number one sworn enemy, she's the reason why almost all of our childhood fights ended with me setting something of hers on fire. (Or, vice versa.)

She snitched on me when I broke curfew.
I snitched on her when she lied about having a boyfriend.

We went back and forth like this throughout high school, both vowing to never talk to each other again when we went off to college.

But that was until she showed up at my apartment during my senior year and asked me for a temporary place to stay. Until I realized just how much between us had changed, and the line I thought we'd never cross became harder and harder to ignore...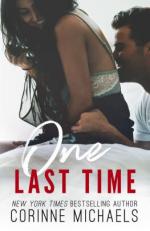 One Last Time

by

Corinne Michaels

February 26th 2018
I'm getting really good at cutting my losses.

First, the husband. Divorcing him was the best decision I ever made. But between single-parenting and job-hunting, I can't catch my breath. When a celebrity blogging position falls into my lap, I'm determined to succeed.

That is, until I get my first assignment and actually see Noah Frazier for the first time . . . practically naked and dripping wet. My heart races and I forget how to form complete sentences. His chiseled abs, irresistible smirk, and crystal blue eyes are too perfect to be real. So, what do I do? Get drunk and humiliate myself, of course.

I'm ready to forget the awkward night, yet Noah has no intention of allowing me to move on. Instead, he arranges for me to write a feature on him, ensuring a lot more time together. One embarrassing moment after another, one kiss after another, and before I can stop myself, I realize—I'm falling in love with him.

But when the unthinkable happens, can I even blame him for cutting his losses?

What I wouldn't give for just one last time . . .
For fans of Christina Lauren and Lauren Layne comes a delightfully sassy and sexy romance about a campaign manager who reluctantly works with the local Lothario to help revamp his image for the upcoming mayoral elections, only to discover that he's hiding something that can turn both their lives upside down.

What's a campaign manager's worst nightmare? A smooth-talking charmer who's never met a scandal that he didn't like.

When Emmanuelle Peroni's father—and mayor of her town—asks her to help rehab Cooper Endicott's image, she's horrified. Cooper drives her crazy in every way possible. But he's also her father's protégé, and she can't say no to him without him finding out the reason why: Cooper and her have a messy past. So Emmanuelle reluctantly launches her father's grand plan to get this Casanova someone to settle down with and help him lose his lothario reputation.

Cooper Endicott wanted to run for Mayor, but he never wanted the drama that went with it. Now that he's on the political hamster wheel, the other candidates are digging up everythingfrom his past. Even though he's doing all the right things, his colorful love life is the sticking point for many of the conservative voters. He wants to win, badly, and he knows that if he wants any chance of getting a vote from the female population, he needs to change his image. The only problem? He might just be falling in love with the one person he promised not to pursue: the Mayor's off-limits daughter.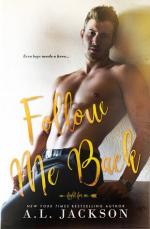 The next seductive, unforgettable stand-alone romance in the FIGHT FOR ME series from NYT & USA Today Bestselling Author A.L. Jackson . . .

Kale Bryant. Arrogant. Gorgeous. Commanding.
This ER doctor is married to his job. His only vice is one-night stands and short-lived flings. He learned a long time ago loving someone isn't worth the risk.

Harley Hope Masterson. Beautiful. Brave. Sweet.
The owner of a small coffee shop knows what it's like to struggle. Embroiled in a bitter divorce, she's threatened with losing everything.

When Kale accepts a new position down the street from Hope's shop, he begins to question every wall he's built around his heart.

He wants her in a way he hasn't wanted anyone.

One touch is fire.
One kiss, and he's spinning out of control.
But taking her won't come without consequences.

Hope is in for the fight of her life. One neither of them saw coming.
Now Kale must decide if loving her is worth risking it all.

She will fight with everything she has.

But sometimes even hope needs a hero . . .
He knows every play in the book. But she's calling the shots.

I'm Maddox Ledger, all-star winger and the reason the Charlotte Strikers killed it in the playoffs. Yeah, the tabloids like to call me arrogant. A real hothead. All I see is a guy who plays to win. Wreaking havoc on the ice, breaking a few hearts—that's all just part of the game. And I'm sure as hell not sitting on the bench.

When my teammate asks me to be in his wedding party, I can't refuse—but that's the only way you'll see me walk down the aisle. Commitment is for suckers. Lucky for me, the bridesmaid I'm paired with is the definition of eye candy. Lacey Easton is totally irresistible . . . and weirdly familiar. A glimpse of bare shoulder takes me back to a steamy Vegas night I can't forget. One I'm eager to repeat.

Suddenly our one-night stand is turning into the sequel . . . and so much more. Still, Lacey's keeping secrets. She doesn't trust me. And maybe I deserve it. But there's no chance I'm letting her get away—or letting another guy take what is mine. This time, I'm playing for keeps.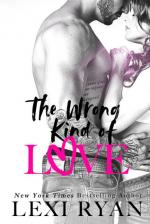 From New York Times bestseller Lexi Ryan comes a sexy new romance novel about a runaway bride, a single dad who's sworn off love, and the kind of family secrets that can threaten to break even the deepest bonds.

You never forget your wedding day. Or the moment your twin sister pukes on your bouquet and confesses she's pregnant . . . with your fiancé's baby.

I wanted to get away, to hide until my heart mended. I found myself in a strange town with a mysterious stranger whose talented mouth and hands almost made me forget it was supposed to be my wedding night.

Afraid to go home to face my broken life, I pretend to be my twin so I can take her job in Jackson Harbor caring for a six-year-old girl. Imagine my surprise when I find out my new boss is my mysterious stranger—Dr. Ethan Jackson.

I never meant for Ethan to discover my secrets. I never meant for them to matter. But the longer I work with him and his sweet daughter, the harder I fall, and the clearer it becomes that I'm not the only one carrying a secret that could tear us apart.

Get ready to fall for the boys of Jackson Harbor in Lexi Ryan's sexy new contemporary romance series. These books can all be read as standalones, but you'll enjoy reading them as a series!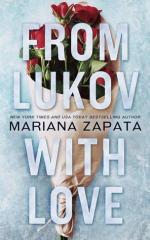 From Lukov with Love

by

Mariana Zapata

February 2018
If someone were to ask Jasmine Santos to describe the last few years of her life with a single word, it would definitely be a four-letter one.

After seventeen years—and countless broken bones and broken promises—she knows her window to compete in figure skating is coming to a close.

But when the offer of a lifetime comes in from an arrogant idiot she's spent the last decade dreaming about pushing in the way of a moving bus, Jasmine might have to reconsider everything.

Including Ivan Lukov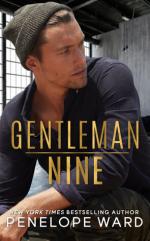 Gentleman Nine

by

Penelope Ward

February 19th 2018
Growing up, the three of us were friends.
He was the nerd.
I was the playboy.
She was the beauty.

Deep down, I only ever wanted her. I kept it inside because Rory and I made a pact that our friend, Amber, was off-limits.

He lied.

I went off to college, and he got the girl.
Amber never knew how I felt.
They were together for years—before he broke her heart.

Through it all and across the miles, she and I casually stayed in touch.
When my job sent me to Boston for a three-month contract position, Amber let me stay in her spare room.

Still reeling from her breakup, she'd sworn off men.
One night, I opened her computer to find the shock of my life. She'd hesitantly contacted a male escort company. Afraid to date and get her heart broken again, she was looking for sex with no strings.
Every emotion imaginable ran through me: protectiveness, jealousy—curiosity.
Amber had chosen Gentleman Number Nine and sent him a message.
She opened up to him, confessing, among other things, her physical attraction to her friend—me. But she considered me off-limits—and she thought I was a manwhore. (Ironic, considering the circumstances.)

Eventually, she set up a date to meet Gentleman Nine at a hotel.
When she showed up several nights later to meet him, she was stunned to see me standing there—with an offer I hoped she wouldn't refuse.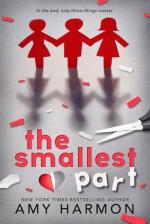 The Smallest Part

by

Amy Harmon

February 13th 2018
"In the end, only three things matter. How much you loved, how gently you lived, and how gracefully you let go of things not meant for you."
- Unknown

It was a big lie. The biggest lie she'd ever told. It reverberated through her head as she said it, ringing eerily, and the girl behind her eyes—the girl who knew the truth—screamed, and her scream echoed along with the lie.
"Are you in love with Noah, Mercedes?" Cora asked. "I mean . . . I know you love him. You've been friends forever. We all have. But are you in love with him?"
If it had been anyone else—anyone—Mercedes would have stuck out her chest, folded her skinny arms, and let her feelings be known. She would have claimed him. But it was Cora. Brave, beautiful, broken Cora, and Cora loved Noah too.
So Mercedes lied.
And with that lie, she lost him. With that lie, she sealed her fate.
She was the best friend, the bridesmaid, the godmother, the glue. She was there for the good times and the bad, the ups and the downs, the biggest moments and the smallest parts. And she was there when it all came crashing down.
This is the tale of the girl who didn't get the guy.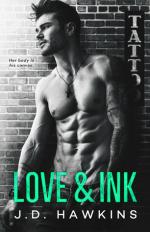 Love & Ink

by

J.D. Hawkins

February 21st 2018
I'm a world famous tattoo artist with a six month waiting list. Everybody's begging me to put my ink on them. I'm the hottest shit in L.A., and can get any girl I want. So the last thing I expect is for Ash Carter to walk into my shop and blow me off.

I've spent the last seven years screwing half the women in the northern hemisphere, but nobody could come close to the girl I left behind. Ash was my world. But in order to protect her, I had to let her go. It was the biggest mistake of my life. And now I'll do anything to get her back.

It's been seven years since we last spoke. Seven long years of trying to ignore the memory of her skin, her eyes, her incredible confidence. She is everything I remember. Still stubborn and feisty and sexy as hell. They say you should forgive and forget. But Ash can never forget what I did. And I can never forgive myself.

She's left a permanent mark on my heart.

But even if she takes me back, will we be able to overcome the past? Will we be able to move forward towards our future?