Before We Were Strangers

by

Renee Carlino

4/5
To the Green-eyed Lovebird:

We met fifteen years ago, almost to the day, when I moved my stuff into the NYU dorm room next to yours at Senior House.

You called us fast friends. I like to think it was more.

We lived on nothing but the excitement of finding ourselves through music (you were obsessed with Jeff Buckley), photography (I couldn't stop taking pictures of you), hanging out in Washington Square Park, and all the weird things we did to make money. I learned more about myself that year than any other.

Yet, somehow, it all fell apart. We lost touch the summer after graduation when I went to South America to work for National Geographic. When I came back, you were gone. A part of me still wonders if I pushed you too hard after the wedding…

I didn't see you again until a month ago. It was a Wednesday. You were rocking back on your heels, balancing on that thick yellow line that runs along the subway platform, waiting for the F train. I didn't know it was you until it was too late, and then you were gone. Again. You said my name; I saw it on your lips. I tried to will the train to stop, just so I could say hello.

After seeing you, all of the youthful feelings and memories came flooding back to me, and now I've spent the better part of a month wondering what your life is like. I might be totally out of my mind, but would you like to get a drink with me and catch up on the last decade and a half?

M
He's the love of her life, but he doesn't know it.
She's his one moment of sacrifice in a lifetime of survival.

He was damaged and wild, but resilient.
She's always been obedient. Now she's restless.

Home for the summer between college and med school, Pearl Torres Frank knows two things: Boyce Wynn is the embodiment of everything she should run from, and everything she wants to run to. Rebellious and loud. Unconcerned with society's opinion of him. Passionate. Strong. Dangerous.

And one more trait he hides from everyone but her:
Sweet.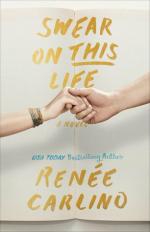 When a bestselling debut novel from mysterious author J.Colby becomes the literary event of the year, Emiline reads it reluctantly. As an adjunct writing instructor at UC San Diego with her own stalled literary career and a bumpy long-term relationship, Emiline isn't thrilled to celebrate the accomplishments of a young and gifted writer.

Yet from the very first page, Emiline is entranced by the story of Emerson and Jackson, two childhood best friends who fall in love and dream of a better life beyond the long dirt road that winds through their impoverished town in rural Ohio.

That's because the novel is patterned on Emiline's own dark and desperate childhood, which means that "J. Colby" must be Jase: the best friend and first love she hasn't seen in over a decade. Far from being flattered that he wrote the novel from her perspective, Emiline is furious that he co-opted her painful past and took some dramatic creative liberties with the ending.

The only way she can put her mind at ease is to find and confront "J. Colby," but is she prepared to learn the truth behind the fiction?
He talks dirty to me, but I don't know his name.

He wants to tie me up, but I don't know his face.

He turns me on, but I couldn't point him out in a crowd.

I've fallen for an anonymous stranger, and now the anonymity ends. I want more than typed secrets and texted promises. I want something reckless. Heat. Passion. The thrill of being entirely possessed.

Because I suspect this anonymous stranger isn't a stranger at all.

*****

Lizzy Thompson met riverrat69 online through a service promising to deliver meaningful relationships by forbidding its users to share names or photos until they've reached a certain benchmark. She was looking for love. He was researching an investment. They hit it off. Talked and flirted, hid behind screen names and cartoon avatars.

Now they're breaking the rules and meeting in person. But Liz is prepared. She's picked up hints and followed clues. She's nearly convinced she's discovered the identity of her dirty-talking online friend.

She wonders if her ex-lover Sam Bradshaw knows her identity too.
When she rolls the dice on one reckless night, her chance at something real could crumble.

Down by Contact (The Barons #2) by Santino Hassell 4/5
Two rival football players begin a game with higher stakes than the Super Bowl in this steamy romance from the author of Illegal Contact.

Simeon Boudreaux, the New York Barons' golden-armed quarterback, is blessed with irresistible New Orleans charm and a face to melt your mama's heart. He's universally adored by fans and the media. Coming out as gay in solidarity with his teammate hasn't harmed his reputation in the least—except for some social media taunting from rival linebacker Adrián Bravo.

Though they were once teammates, Adrián views Simeon as a traitor and the number-one name on the New Jersey Predators' shit list. When animosity between the two NFL players reaches a boiling point on the field, culminating in a dirty fist fight, they're both benched for six games and sentenced to joint community service teaching sullen, Brooklyn teens how to play ball.

At first, they can barely stand to be in the same room, but running the camp forces them to shape up. With no choice but to work together, Simeon realizes Adrián is more than his alpha-jerk persona, and Adrián begins to question why he's always had such strong feelings for the gorgeous QB…
The Spring Girls

by

Anna Todd

3/5
Four sisters desperately seeking the blueprints to life—the modern-day retelling of Louise May Alcott's Little Women like only Anna Todd (After, Imagines) could do.

The Spring Girls—Meg, Jo, Beth, and Amy—are a force of nature on the New Orleans military base where they live. As different as they are, with their father on tour in Iraq and their mother hiding something, their fears are very much the same. Struggling to build lives they can be proud of and that will lift them out of their humble station in life, one year will determine all that their futures can become.

The oldest, Meg, will be an officer's wife and enter military society like so many of the women she admires. If her passion—and her reputation—don't derail her.

Beth, the workhorse of the family, is afraid to leave the house, is afraid she'll never figure out who she really is.

Jo just wants out. Wishing she could skip to graduation, she dreams of a life in New York City and a career in journalism where she can impact the world. Nothing can stop her—not even love.

And Amy, the youngest, is watching all her sisters, learning from how they handle themselves. For better or worse.

With plenty of sass, romance, and drama, The Spring Girls revisits Louisa May Alcott's classic Little Women, and brings its themes of love, war, class, adolescence, and family into the language of the twenty-first century.
Sex, Not Love

by

Vi Keeland

4/5
My relationship with Hunter Delucia started backwards.

We met at a wedding—him sitting on the groom's side, me sitting on the bride's. Stealing glances at each other throughout the night, there was no denying an intense, mutual attraction.

I caught the bouquet; he caught the garter. Hunter held me tightly while we danced and suggested we explore the chemistry sparking between us. His blunt, dirty mouth should've turned me off. But for some crazy reason, it had the opposite effect on me.

We ended up back in my hotel room. The next morning, I headed home to New York leaving him behind in California with the wrong number.

I thought about him often, but after my last relationship, I'd sworn off of charming, cocky, gorgeous-as-sin men. A year later, Hunter and I met again at the birth of our friends' baby. Our attraction hadn't dulled one bit. After a whirlwind trip, he demanded a real phone number this time. So I left him with my mother's—she could scare away any man with her talks of babies and marriage—and flew back home.

I'd thought it was funny, until the following week when he rang the bell at Mom's house for Sunday night dinner. The crazy, gorgeous man had won over my mother and taken an eight-week assignment in my city. He proposed we spend that time screwing each other out of our systems.

Eight weeks of mind-blowing sex with no strings attached? What did I have to lose?

Nothing, I thought.
It's just sex, not love.
But you know what they say about the best laid plans…
"You need a good guy. A long-term guy. One who does dates and romance and emotional strings…I'm just an asshole who wants to tie you up, make you come, and walk away."

Samuel Bradshaw is a man with a reputation—the kind of reputation that should have me running the other way. Instead, it has me searching for the shortest distance to his bed. I won't be the starry-eyed girl who thinks she can change a man like Sam, and despite what he thinks, forever is not what I need. I need the things he makes me feel, the way he turns me on, and the promise of pleasure in his eyes. I need SOMETHING WILD.
After everything blew up on Christmas, Liz walked away from me, and I let her. She said she needed space and a chance to pursue her dreams. But we both knew she was running from the mess she made. Now the political campaign she used as an excuse to leave is bringing us back together and I'm proving to her what she really needs—not just the hot nights, greedy hands, and undeniable physical chemistry. What she really needs is something real. What she really needs…is me.
The Thing About Love

by

Kim Karr

4/5
The whole stethoscope-and-white coat thing isn't my cup of tea.

I prefer a man with an artistic vein in his body. 9 - 5 hours. And I can definitely do without the half-lidded, sleepy bedroom eyes. (Okay, so those are kind of sexy.)

Tall, dark, and handsome doesn't change the fact that he's arrogant, cocky, and rude.
Not that I care, but he's made it clear he wants nothing to do with a quirky girl like me, which is why he said no.

Turns out no isn't an option.

I have a quickie wedding to plan, and Dr. Jake Kissinger doesn't have a choice. He looks at our situation like he's stuck with me, but in reality I'm stuck with him. Stuck with his pouty mouth. His long, lean body. And stuck with those loose, low riding scrub pants. (Okay, so the doctor thing is growing on me.)

When spending time together turns into more than it should, I know I'm in trouble.
He isn't supposed to make my heart pound.
I'm not supposed to make him look twice.
And we aren't supposed to spend the night together. (Okay, so he has more than one artistic vein in his body, and other places.)

Falling for him is definitely a mistake.

Here's the thing…
Jake is unavailable, and I know it.
Just not in the way you might think.

I guess you can't have your cake and eat it too.
Midnight Blue

by

L.J. Shen

4/5
It should have been easy.
I needed the money. He needed a babysitter to keep him from snorting himself to death.
I was cherry-picked especially for him. Responsible. Optimistic. Warm. Innocent.
The worst part is that I should have known better.
Alex Winslow. British rock star. Serial heartbreaker. Casanova with whiskey eyes.
"Don't get near the devil in a leather jacket. He'll chew you up and spit you out."
Guess what? I didn't listen.
I signed the contract.
World tour. Three months. Four Continents. One hundred shows.
My name is Indigo Bellamy, and I sold my soul to a tattooed god.
Problem was, my soul wasn't enough for Alex Winslow. He ended up taking my body, too.
Then he took my heart.
Then he took my all.