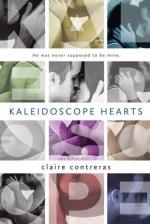 He was my older brother's best friend.
He was never supposed to be mine.
I thought we would get it out of our system and move on.

One of us did.
One of us left.

Now he's back, looking at me like he wants to devour me. And all those feelings I'd turned into anger are brewing into something else, something that terrifies me.
He broke my heart last time.
This time he'll obliterate it.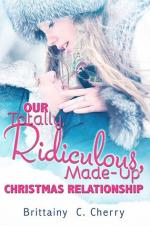 Our Totally, Ridiculous, Made-up Christmas Relationship

by

Brittainy C. Cherry
All families have secrets, and Jules Stone's is no exception. Deciding not to follow in her family's Oscar-winning footsteps, Jules chooses to take a more behind-the-scenes career in one of the Top 10 Talent Agencies in Chicago. After being dumped five hours before spending Christmas with her dysfunctional family, she needs a plan to avoid their judgmental eyes.
Enter: Kayden Reece.
Kayden is the black sheep of his family, being the one actor drowning in a world of doctors and lawyers. Never really getting a jumpstart at his acting career or landing a big time role, he can feel his dad's disappointment soaking into his spirit.
When Kayden gets a chance to meet and sign with a big name agent at Walter and Jacks Talent Agency, he's ready to prove everyone wrong. Jules stumbles into the building in shambles, ugly crying, and begging to pay an actor a big sum of money to be her made-up boyfriend for five days, Kayden jumps at the opportunity—finally able to say he landed a role.
When secrets start to unravel, Kayden and Jules must learn that all families have their baggage, sometimes co-stars fall in lust, and it's important to always have invisible mistletoe hanging around.
This holiday season join the two fake lovebirds as they partake in the role of a lifetime.
3/5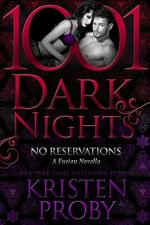 Chase MacKenzie is not the man for Maura Jenkins. A self-proclaimed life-long bachelor, and unapologetic about his distaste for monogamy, a woman would have to be a masochist to want to fall into Chase's bed.

And Maura is no masochist.

Chase has one strict rule: no strings attached. Which is fine with Maura because she doesn't even really like Chase. He's arrogant, cocky, and let's not forget bossy. But when he aims that crooked grin at her, she goes weak in the knees. Not that she has any intentions of falling for his charms.

Definitely not.

Well, maybe just once…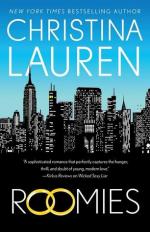 Marriages of convenience are so…inconvenient.

Rescued by Calvin McLoughlin from a would-be subway attacker, Holland Bakker pays the brilliant musician back by pulling some of her errand-girl strings and getting him an audition with a big-time musical director. When the tryout goes better than even Holland could have imagined, Calvin is set for a great entry into Broadway—until he admits his student visa has expired and he's in the country illegally.

Holland impulsively offers to wed the Irishman to keep him in New York, her growing infatuation a secret only to him. As their relationship evolves from awkward roommates to besotted lovers, Calvin becomes the darling of Broadway. In the middle of the theatrics and the acting-not-acting, what will it take for Holland and Calvin to realise that they both stopped pretending a long time ago?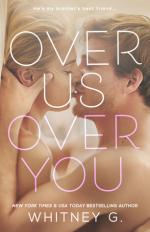 Over Us, Over You

by

Whitney G.
Subject: Delete this message after you read it...

Dear Hayley,

I'm assuming you're still hungover, so I'll make this brief.

Last night, you slipped under my sheets (without my permission), and we almost had sex. I got the hell out of the bed once I realized it was you, and I took you home.

That's the story.

The end.

Period.

Just in case you've forgotten, you're my best friend's little sister. We will never be anything more. (We can't be anything more.) Our previous friendship is still unresolved--or "over" in your terms, so I'd prefer if we worked on becoming 'just friends' again since you're in town.

Nonetheless, I'm not a man who leaves questions unanswered--even the drunken ones, so to properly close our inappropriate conversation:

1) Yes, I liked the way your lips felt against mine when you were on top of me.
2) Yes, I do "prefer" rough sex, but I'm pretty sure I wasn't rough with you.
3) No, I had no idea you were still a virgin...

This message never happened,
Corey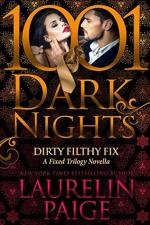 I like sex. Kinky sex. The kinkier the better.

Every day, it's all I think about as I serve coffee and hand out business agendas to men who have no idea I'm not the prim proper girl they think I am.

With a day job as the secretary to one of New York's most powerful men, Hudson Pierce, I have to keep my double life quiet. As long as I do, it's not a problem.

Enter: Nathan Sinclair. Tall, dark and handsome doesn't come close to describing how hot he is. And that's with his clothes on. But after a dirty, filthy rendezvous, I accept that if we ever see each other again, he'll walk right by my desk on his way to see my boss without recognizing me.

Only, that's not what happens. Not the first time I see him after the party. Or the next time. Or the time after that. And as much as I try to stop it, my two worlds are crashing into each other, putting my job and my reputation at risk.

And all I can think about is Nathan Sinclair.

All I can think about is getting just one more dirty, filthy fix.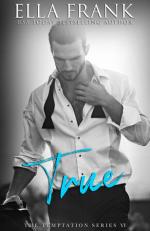 True - adjective: That which is accurate or exact.

I dare you to try.
I think you're my truth.
Terrify me.
Marry me.
Marry me.
Marry me...

Four years ago, Logan Mitchell walked into Tate's life and challenged him to see it differently.

He dared Tate to try a kiss, when normally he wouldn't have.
He begged him to take a chance, when he probably shouldn't have.
But most importantly, he asked Tate to trust that he would love him, and he did. From that moment on, Tate realized exactly what his life had been missing—Logan.

Happily-ever-afters come in many different forms. But for Tate Morrison, there's only one ending he wants. The one where the guy marries the guy and true love conquers all.

Now all he has to do is tell Logan.

Join Logan and Tate as they finally realize what the rest of us knew all along. That they belong together for better or worse—always.
E L James revisits the world of Fifty Shades with a deeper and darker take on the love story that has enthralled millions of readers around the globe.

Their scorching, sensual affair ended in heartbreak and recrimination, but Christian Grey cannot get Anastasia Steele out of his mind, or his blood. Determined to win her back, he tries to suppress his darkest desires and his need for complete control, and to love Ana on her own terms.

But the horrors of his childhood still haunt him, and Ana's scheming boss, Jack Hyde, clearly wants her for himself. Can Christian's confidant and therapist, Dr. Flynn, help him face down his demons? Or will the possessiveness of Elena, his seducer, and the deranged devotion of Leila, his former submissive, drag Christian down into the past?

And if Christian does win Ana back, can a man so dark and damaged ever hope to keep her?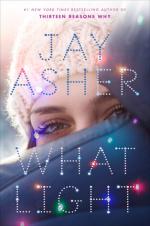 Sierra's family runs a Christmas tree farm in Oregon—it's a bucolic setting for a girl to grow up in, except that every year, they pack up and move to California to set up their Christmas tree lot for the season. So Sierra lives two lives: her life in Oregon and her life at Christmas. And leaving one always means missing the other.

Until this particular Christmas, when Sierra meets Caleb, and one life eclipses the other.

By reputation, Caleb is not your perfect guy: years ago, he made an enormous mistake and has been paying for it ever since. But Sierra sees beyond Caleb's past and becomes determined to help him find forgiveness and, maybe, redemption. As disapproval, misconceptions, and suspicions swirl around them, Caleb and Sierra discover the one thing that transcends all else: true love.

What Light is a love story that's moving and life-affirming and completely unforgettable.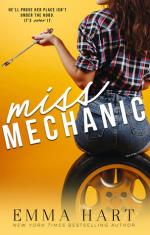 Two mechanics. One rivalry.
She'll prove she's as good as she says she is.
He'll prove her place isn't under the hood.
It's over it.

"Don't let the bastards get you down."
For twenty-six years, I lived by my daddy's motto. Which is why "Mechanic Wanted" is all it takes for me to apply for the job at the garage we once owned.
And I meet the biggest bastard of them all.
Dexter Ryne. Hotter than Hell in July and a firm believer that my place is on reception, taking phone calls and looking pretty. Not getting dirty under the hood of a car.
Determined to prove each other wrong, we make a deal.
I have three weeks to prove my worth as a mechanic. If I don't, I'm on telephone duty.
If I do, he'll accept defeat and make my job permanent.
Now, all I have to do is fight my attraction to the cocky little… beep.
Problem is, an engine isn't the only thing he knows how to make purr…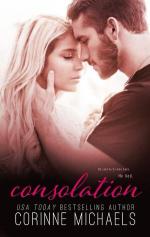 Liam wasn't supposed to be my happily ever after.
He wasn't even on my radar.
He was my husband's best friend—forbidden.

But my husband is dead and I'm alone. I ache for him and I reach for Liam.

One night with Liam changed everything. Now I have to decide if I truly love him or if he's just the consolation prize.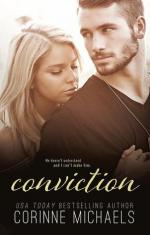 I fell in love with Liam only to be left shattered into a million pieces. Again. The idea of being without him cripples me but the reality is, he's gone.

He doesn't understand and I can't make him.

If only he'd see the conviction behind my words—then Liam would still be here.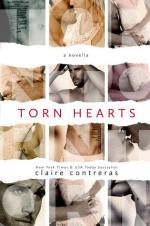 I met a boy once.

He made my heart go into a frenzy every time he looked at me, and my knees go weak whenever he touched me. Our love was so beautiful, that even its demise was bittersweet.

I met a girl once.

Her world, full of possibilities, made me feel like even I had a chance at being someone. She believed in me. She loved me. We were so secure, that even our breaking point seemed hazy.

Until we reached it.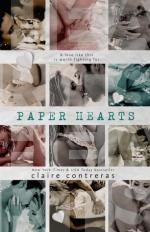 I lost her. No, I didn't lose her. I threw her away. She was my best friend. I was never supposed to fall in love with her. I was careless. She was heartbroken. I thought I was doing fine. But here she is, years later, forced to work with me, reminding me why I fell in love with her in the first place. And this time I'm going to do everything in my power to never let her go.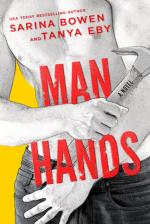 He puts the "screw" in screwball comedy...

BRYNN

At thirty-four, I'm reeling from a divorce. I don't want to party or try to move on. I just want to stay home and post a new recipe on my blog: Brynn's Dips and Balls.

But my friends aren't having it. Get out there again, they say. It will be fun, they say. I'm still taking a hard pass.

Free designer cocktails, they say. And that's a game-changer.

Too bad my ex shows up with his new arm candy. That's when I lose my mind. But when my besties dare me to leap on the first single man I see, they don't expect me to actually go through with it.

TOM

All I need right now is some peace and quiet while my home renovation TV show is on hiatus. But when a curvy woman in a red wrap dress charges me like she's a gymnast about to mount my high bar, all I can do is brace myself and catch her. What follows is the hottest experience of my adult life.

I want a repeat, but my flying Cinderella disappears immediately afterward. She doesn't leave a glass slipper, either—just a pair of panties with chocolate bunnies printed on them.

But I will find her.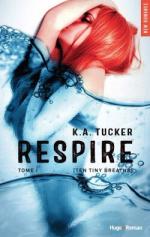 À à peine 20 ans, la vie de Kacey bascule dans la tragédie : ses parents, sa meilleure amie et son copain meurent dans un accident de voiture. Elle est la seule survivante de la famille, avec sa sœur Livie qui n'était heureusement pas avec eux ce jour-là. Alors qu'elles sont confiées à la garde d'un oncle et d'une tante peu scrupuleux, Kacey décide de prendre sa vie et celle de sa sœur, en main. Ensemble elles vont tenter de se reconstruire à l'autre bout du pays, en Floride.
Livie has always been the stable one of the two Cleary sisters, handling her parents' tragic death and Kacey's self-destructive phase with strength and maturity. But underneath that exterior is a little girl hanging onto the last words her father ever spoke to her. "Make me proud," he had said. She promised she would...and she's done her best over the past seven years with every choice, with every word, with every action.

Livie walks into Princeton with a solid plan, and she's dead set on delivering on it: Rock her classes, set herself up for medical school, and meet a good, respectable guy that she's going to someday marry. What isn't part of her plan are Jell-O shots, a lovable, party animal roommate she can't say 'no' to, and Ashton, the gorgeous captain of the men's rowing team. Definitely him. He's an arrogant ass who makes Livie's usually non-existent temper flare and everything she doesn't want in a guy. Worse, he's best friends and roommates with Connor, who happens to fits Livie's criteria perfectly. So why does she keep thinking about Ashton?

As Livie finds herself facing mediocre grades, career aspirations she no longer thinks she can handle, and feelings for Ashton that she shouldn't have, she's forced to let go of her last promise to her father and, with it, the only identity that she knows.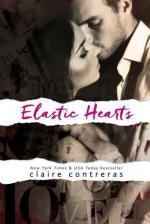 Victor Reuben.
Most sought out divorce attorney in LA.

Nicole Alessi.
Soon to be ex-wife of Hollywood's biggest star, Victor's latest client and his boss's daughter.

In such a high profile divorce, they can't afford any extra drama. Luckily, neither one of them has anything to hide.
Unless you count the mind blowing sex they had…
Once…
Twice…
Three times all those years ago.

As long as they leave the past where it belongs, they'll be fine. But with her wearing those tight dresses and him giving her those heated glances, keeping their hands to themselves is proving to be more difficult than either one of them realized.

It won't be long before the paparazzi start to smell smoke, and where there's smoke...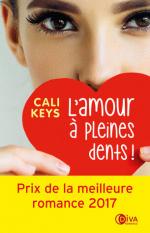 L'amour à pleines dents !

by

Cali Keys