Villain by Samantha Young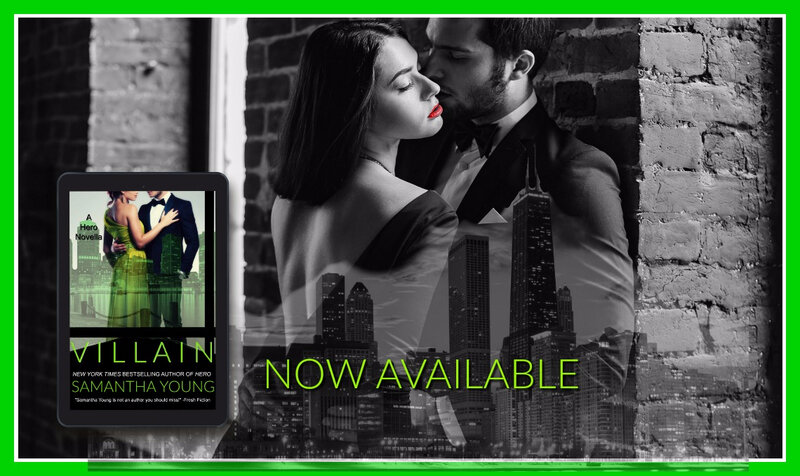 Cover Design by Samantha Young
The sexy and emotional companion novella to the New York Times bestselling romance HERO.
Nadia Ray is not just a broadcast meteorologist. She's Boston's morning television It Girl. Successful and independent, she's put a past she's ashamed of behind her and is forging a future she can be proud of. However, when her new boss discovers her secret he blackmails her, intent on using Nadia's popularity to make them the number one morning show in Massachusetts. He wants her to be part of uncovering the city's biggest scandal – a secret billionaire Caine Carraway is hiding.
Soon Nadia is thrown into the path of Caine's best friend: sexy, wealthy bachelor Henry Lexington. But she doesn't encounter the dashing high society gentleman Henry is purported to be. Instead she's faced with an insulting and defensive villain who misjudges her at every turn.
When Henry finally realizes the truth, and decides to make amends, Nadia wants nothing to do with him. But she underestimates his determination and charm and soon they find themselves embroiled in an intense, passionate affair.
An affair Nadia knows must come to an end before their feelings grow any deeper and he discovers her secrets.
After all, Henry Lexington isn't the only one who played the part of a villain once…
Out December 5th in digital edition.
Purchase Links:

AMAZON US - http://amzn.to/2giFLfF
AMAZON UK - http://amzn.to/2yxhpZz

KOBO US - http://bit.ly/2i1siJr

KOBO UK - http://bit.ly/2yQpdGp

iBOOKS UK & US, & GOOGLE PLAY Links Coming Soon!
Review
Samantha Young is one of my favorite author! And When I saw that she was writing a second book for the Hero serie! I was soooo happy because, let's be real, Hero is a really good one, I couldn't be happier to read another one! and Oh gosh Villain was as good as Hero!
What I love with Samantha Young, is that in her book, the characters are always strong and smart! especialy the females one! I'm a sucker of strong heroine, with strength, with heart and with a big mouth sometimes! Nadia is one of it! She's beautiful but she's not just beautiful ! she's strong! even when Men treated her poorly, She was blackmailed by her boss, he used her but she wanted to fight...She met Henry... and all became more complicated... or not....
Once again, Samantha bllew my mind! this book is intense and sweet!
Well done Sam, and thank you for the opportunity to review your book :)
4/5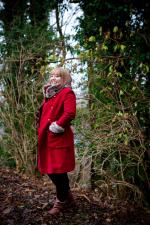 About Samantha Young:
Samantha Young is the New York Times, USA Today and Wall Street Journal bestselling author of adult contemporary romances, including the On Dublin Street series and Hero, as well as the New Adult duology Into the Deep and Out of the Shallows. Every Little Thing, the second book in her new Hart's Boardwalk series, will be published by Berkley in March 2017. Before turning to contemporary fiction, she wrote several young adult paranormal and fantasy series, including the amazon bestselling Tale of Lunarmorte trilogy. Samantha's debut YA contemporary novel The Impossible Vastness of Us was published by Harlequin TEEN in ebook & hardback June 2017. Play On is an adult contemporary romance and the first in a brand new series set in Scotland. Villain is a companion novella to the New York Times bestselling romance HERO.
Samantha has been nominated for the Goodreads Choice Award 2012 for Best Author and Best Romance for On Dublin Street, Best Romance 2014 for Before Jamaica Lane, and Best Romance 2015 for Hero. On Dublin Street, a #1 bestseller in Germany, was the Bronze Award Winner in the LeserPreis German Readers Choice Awards for Best Romance 2013, Before Jamaica Lane the Gold Medal Winner for the LeserPreis German Readers Choice Awards for Best Romance 2014 and Echoes of Scotland Street the Bronze Medal Winner for the LeserPreis German Readers Choice Awards for Best Romance 2015.
Samantha is currently published in 30 countries and is a #1 international bestselling author.
Connect with Samantha Young online:
Website:http://authorsamanthayoung.com
Facebook: http://www.facebook.com/authorsamanthayoung
Twitter: @AuthorSamYoung
Instagram: @AuthorSamanthaYoung
Pinterest: http://www.pinterest.com/samyoungauthor