Mackenzie Reed has officially been stood up. Not only has she wasted two years on Mr. So Not Interested but now she doesn't even have pizza and the Mets to keep her company. Then hewalks into her life—more than six feet of rugged, hot stranger. Maybe, just for tonight, Mac can pretend to be a girl she's not. After all, she deserves a little no-strings fun…

As far as Wesley Porter is concerned, one night with Mackenzie isn't nearly enough. She's a mystery he wants to solve—if he can keep her from running for the door every time they touch. There's obviously some serious chemistry between them, so why is she fighting it?

As one sexy hookup turns into another (and another), Wesley is determined to prove they were made for each other. But Mac has been hurt before, and she refuses to fall for this sexy, ridiculously perfect guy. In fact, she has every intention of fighting it…unless he can convince her otherwise.
Book 5 in the Royals series continuing Easton Royal's story as he navigates his last year of high school and fights for his heart and that of his family.
Everything inside of him is screaming that he needs to run, he needs to go, he needs to escape.

Lane Warner is used to being overshadowed and overlooked.

After all, he's the youngest brother and the most laid back one in the family. He's the one known for going with the flow and not making waves, even when things seem to be at their worst.

Very few things in life have had the ability to rile Lane up and get under his skin. At the top of that list is his childhood friend Brynn Fox…no…Brynn Warner. The fact that they share a last name was the one thing that has the power to light him up and spin him out of control like no other. There was no calm, cool and collected when it comes to all the reasons why Brynn had to become part of his family.

It's slowly killing him to keep wanting what he can't have, so Lane sees only one way to stop himself from doing something they'll both regret…he has to leave.

Everything inside of her is calling out to find him, to follow, to bring him home.

Brynn Warner is used to being stuck between a rock and a hard place.

After all, she's the daughter of an unrepentant gold-digger who never once blinked at being the cause of her daughter's pain and suffering.

Very few things in her life have ever brought happiness and a sense of security. At the very top of that list is Lane Warner. She has unwaveringly loved the youngest Warner since the first minute she laid eyes on him. He was everything Brynn ever wanted and everything she knew she could never have.

Sometimes the right choice is the one that hurts the most and Brynn's had to make a few that felt like they might be the end of her.

When Lane takes off, one thing is clear, the only choice Brynn has is to go after him.She's going to bring her wayward cowboy home….whatever it takes.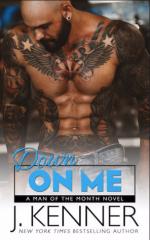 Who's Your Man of the Month?

When a group of fiercely determined friends realize their beloved hang-out is in danger of closing, they take matters into their own hands to bring back customers lost to a competing bar. Fighting fire with a heat of their own, they double down with the broad shoulders, six-pack abs, and bare chests of dozens of hot, local guys who they cajole, prod, and coerce into auditioning for a Man of the Month calendar.

But it's not just the fate of the bar that's at stake. Because as things heat up, each of the men meets his match in this sexy, flirty, and compelling binge-read romance series of twelve novels releasing every other week from New York Times bestselling author J. Kenner.

"With each novel featuring a favorite romance trope—beauty and the beast, billionaire bad boys, friends to lovers, second chance romance, secret baby, and more—this series hits the heart and soul of romance." — New York Times bestselling author Carly Phillips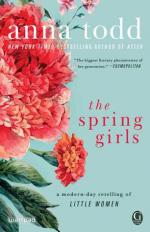 The Spring Girls: A Modern-Day Retelling of Little Women

by

Anna Todd

January 2nd
Four sisters desperately seeking the blueprints to life—the modern-day retelling of Louise May Alcott's Little Women like only Anna Todd (After, Imagines) could do.

The Spring Girls—Meg, Jo, Beth, and Amy—are a force of nature on the New Orleans military base where they live. As different as they are, with their father on tour in Iraq and their mother hiding something, their fears are very much the same. Struggling to build lives they can be proud of and that will lift them out of their humble station in life, one year will determine all that their futures can become.

The oldest, Meg, will be an officer's wife and enter military society like so many of the women she admires. If her passion—and her reputation—don't derail her.

Beth, the workhorse of the family, is afraid to leave the house, is afraid she'll never figure out who she really is.

Jo just wants out. Wishing she could skip to graduation, she dreams of a life in New York City and a career in journalism where she can impact the world. Nothing can stop her—not even love.

And Amy, the youngest, is watching all her sisters, learning from how they handle themselves. For better or worse.

With plenty of sass, romance, and drama, The Spring Girls revisits Louisa May Alcott's classic Little Women, and brings its themes of love, war, class, adolescence, and family into the language of the twenty-first century.
Hannah Malone loves her new town. Despite living in Cunningham Falls for five years, she's still considered a "move in" by most of the locals, and that doesn't bother her in the least. She's the "new girl", and she hasn't regretted it for one day. This town is her sanctuary. Her home. The one place she finally fits in and feels safe after a lifetime of being different and running from the memories and a past so far away it can't haunt her anymore.

As the newly appointed police chief, Brad Hull has the responsibility to keep his citizens safe and to maintain order. His roots in this town are deep—five generations deep, to be exact. Cunningham Falls, Montana is his town, and being a cop and protecting what's his is his passion. Everything's running like clockwork until a sassy redheaded doctor moves in and disrupts the order—and Brad's focus.

She's not just beautiful, funny, and strong. Hannah's everything he's been looking for in a woman. The chemistry is undeniable, and the heat in the bedroom is off the charts. Brad knew the minute he met Hannah that she was the one for him. He's tenacious in his pursuit of her. But when the past catches up with Hannah, will Brad be able to protect her and their hearts?
Book 5 of The Blackstone Affair continues the story of Ethan and Brynne entirely in Ethan's pov.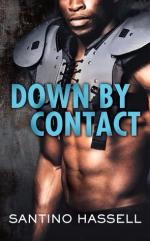 Two rival football players begin a game with higher stakes than the Super Bowl in this steamy romance from the author of Illegal Contact.

Simeon Boudreaux, the New York Barons' golden-armed quarterback, is blessed with irresistible New Orleans charm and a face to melt your mama's heart. He's universally adored by fans and the media. Coming out as gay in solidarity with his teammate hasn't harmed his reputation in the least—except for some social media taunting from rival linebacker Adrián Bravo.

Though they were once teammates, Adrián views Simeon as a traitor and the number-one name on the New Jersey Predators' shit list. When animosity between the two NFL players reaches a boiling point on the field, culminating in a dirty fist fight, they're both benched for six games and sentenced to joint community service teaching sullen, Brooklyn teens how to play ball.

At first, they can barely stand to be in the same room, but running the camp forces them to shape up. With no choice but to work together, Simeon realizes Adrián is more than his alpha-jerk persona, and Adrián begins to question why he's always had such strong feelings for the gorgeous QB…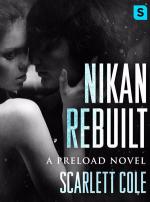 Does the past ever really stay in the past?

Nikan can never be complete. He's got a rock group made up of the family he built for himself, more money than he knows what to do with, and a stream of groupies falling over themselves to date him. But none of them are her. The one regret that still plagues him, still taunts him with what he could have had.

Jenny is a survivor. Now running a group home after overcoming life in a cult lead by her manipulative father and watching her mother drink the poison he fed his followers, she fights to keep the light in the eyes of every boy who walks through her doors. Far from simple young love, Nik taught her to trust, showed her how good life could be. Before he formed the band. Before he became a famous rockstar. Before he destroyed it all.

A chance meeting after years of no contact shows the connection still blazes between them. But will they have their second chance at love? Or will the weight of their past crush their future together?
Return to the Coincidence world and follow the characters Callie and Kayden, Luke and Violet, Emery and Ryler, and Seth and Greyson as the navigate through relationships, engagements, school, jobs--life.
Books 1-2 of the Coincidence Diaries, a spin-off of The Coincidence Series.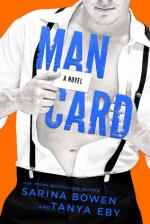 Nothing ventured, nothing banged...

Ash
I still don't know how it happened. One minute I was arguing with my arrogant competitor--our usual trash-talk over who deserves the larger commission. But somehow I went from throwing down to kneeling down...
It can never happen again. I don't even like Braht. He's too slick. He's a manipulating mansplaining party boy in preppy clothes.
So why can't I get him out of my head?

Braht
There are two things I know without question. One: Ash and I are destined for each other. Two: never trust a man with a unibrow.
Ash is my missing my piece. She's the sweet cream to my gourmet espresso. And nothing gets me going faster than her contempt for me. They don't call her the Ashkicker for nothing.
Eventually I'll win her over...if my past doesn't ruin everything first.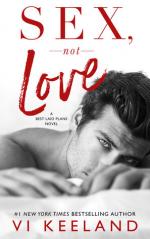 Sex, Not Love

by

Vi Keeland

January 15th 2018
My relationship with Hunter Delucia started backwards.

We met at a wedding—him sitting on the groom's side, me sitting on the bride's. Stealing glances at each other throughout the night, there was no denying an intense, mutual attraction.

I caught the bouquet; he caught the garter. Hunter held me tightly while we danced and suggested we explore the chemistry sparking between us. His blunt, dirty mouth should've turned me off. But for some crazy reason, it had the opposite effect on me.

We ended up back in my hotel room. The next morning, I headed home to New York leaving him behind in California with the wrong number.

I thought about him often, but after my last relationship, I'd sworn off of charming, cocky, gorgeous-as-sin men. A year later, Hunter and I met again at the birth of our friends' baby. Our attraction hadn't dulled one bit. After a whirlwind trip, he demanded a real phone number this time. So I left him with my mother's—she could scare away any man with her talks of babies and marriage—and flew back home.

I'd thought it was funny, until the following week when he rang the bell at Mom's house for Sunday night dinner. The crazy, gorgeous man had won over my mother and taken an eight-week assignment in my city. He proposed we spend that time screwing each other out of our systems.

Eight weeks of mind-blowing sex with no strings attached? What did I have to lose?

Nothing, I thought.
It's just sex, not love.
But you know what they say about the best laid plans…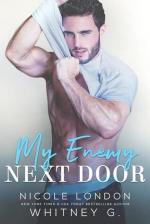 We used to be close.
We used to be best friends.
Until we became enemies all over again...

Courtney Ryan ruined our on and off again friendship with one swipe of her sexy, red pen. After the final rude message she wrote in my yearbook, I decided that we didn't need to see each other anymore. (But if we ever did, I would show her exactly why I had every reason to be "cocky," and make her admit that I really *was* "that damn sexy.")

Now that it's ten years later, I've graduated from law school at the top of my class, and I'm being recruited to work at the number one law firm in New York City.

Since I'm in desperate need of a change and want to meet new people, I don't hesitate to accept the offer.

Until I find out that Courtney Ryan graduated from law school, too.
Until I realize that she'll be working at the same exact firm, in the office right across from me.

And if this timing isn't unfortunate enough, she's far more tempting and sexier than I originally remembered.
(Oh, and last night I found out that she lives right next door...)

We don't have to be close.
We don't have to be best friends.
But she's going to pay me back for making us enemies all over again...