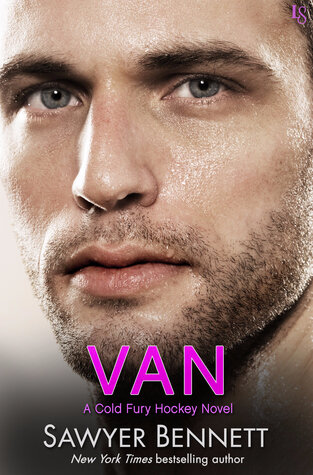 Van (Cold Fury, Book #9) Sawyer Bennett Release Date: November 28, 2017
Synopsis:
Score one for the Carolina Cold Fury hockey team as a stone-cold badass melts for a woman who makes his blood run hot. As one of the league's toughest enforcers, Van Turner is ruthless on the ice. He plays hard because it's the only way to channel the rage boiling inside, and a reputation as an A-hole is better than everyone knowing the truth. Van has spent his entire life running from a secret that's kept him from getting involved in relationships—or accepting lucrative deals with East Coast teams. Then the Carolina Cold Fury makes him an offer he can't refuse . . . and Van meets a woman he can't resist. Simone Fournier is the stubborn one in her family—and that's saying something, considering her brothers are two of the Cold Fury's biggest stars. Simone gets what she wants, and what she wants is Van. Still, there's a part of him Simone can't reach, no matter how hard she tries. In private, he's all fire and passion. In public, he freezes her out. Van may want to push her away, but Simone won't let him go that easily. Because this time, she's playing for keeps.
Review
I'm a huge Sawyer Bennett's fan! everyone who know me can tell you that! and this serie is one of my fav'. I'm such an sport fan even if here in France Hockey is not that popular!
Even if you can read this book as a standalone, I think you need to read the previous one, because we know all the characters and their history from the previous books
Van is Lucas's teammate and roomate ( from the previous book) Simone is Lucas's sister! and they met in the previous book when Simone came to visit her brothers. and she's attracted to him immediately! But Van is close off. He don't talk, and seems to be bored, and to want to do anything with Simone... but Simone know what she want and she want him, even if she don't know what to do with her life, she's lost...
One again Sawyer Bennett did it! I was hocked from the 1rst line to the last! It sweet, funny and sexy! it's so well written...You can trust me, and read it. you're not gonna be dissapointed
And like always I can't wait to read the next one! :))
Sawyer Bennett's New York Times bestselling Carolina Cold Fury series can be read together or separately.
Goodreads Link: https://www.goodreads.com/book/show/35018727-van
Purchase Van (Cold Fury, Book #9):
Amazon: http://amzn.to/2zm018j
iBooks: http://apple.co/2pB0YqS
Google Play: http://bit.ly/2qG2XeA
Kobo: http://bit.ly/2pPNkkK
Audible: http://adbl.co/2BgeVOC
About the Author:
Since the release of her debut contemporary romance novel, Off Sides, in January 2013, Sawyer Bennett has released multiple books, many of which have appeared on the New York Times, USA Today and Wall Street Journal bestseller lists. A reformed trial lawyer from North Carolina, Sawyer uses real life experience to create relatable, sexy stories that appeal to a wide array of readers. From new adult to erotic contemporary romance, Sawyer writes something for just about everyone. Sawyer likes her Bloody Marys strong, her martinis dirty, and her heroes a combination of the two. When not bringing fictional romance to life, Sawyer is a chauffeur, stylist, chef, maid, and personal assistant to a very active daughter, as well as full-time servant to her adorably naughty dogs. She believes in the good of others, and that a bad day can be cured with a great work-out, cake, or even better, both. Sawyer also writes general and women's fiction under the pen name S. Bennett and sweet romance under the name Juliette Poe.
Connect with Sawyer:
Facebook: https://www.facebook.com/bennettbooks
Twitter: https://twitter.com/BennettBooks
Instagram: https://instagram.com/sawyerbennett123/
Goodreads: https://www.goodreads.com/Sawyer_Bennett
Book+Main Bites: https://bookandmainbites.com/sawyerbennett
Sign up for Sawyer's newsletter: http://sawyerbennett.com/signup/