As the lead songwriter for Jacob's Ladder, the last thing Gabe Renard needs is a debilitating case of writer's block. After years of meaningless one night stands, he's finding it hard to pen the love-filled ballads the label is requesting. In an effort to clear his mind, Gabe takes his jeep off-roading in the North Georgia Mountains. When a wrong-turn leads to him getting stuck more than just creatively, he's forced to call for help. To his surprise, the "Ray" who has been sent by Hart Wreckers to his aid is actually "Rae"—a sexy-as-hell spitfire in a pair of tight-as-hell jeans. The combination of Rae's sassy mouth and rocking body might be the inspiration Gabe needs. But for the first time since becoming a rock star, his advances have been shot down.

Reagan Hart has never been a fan of musicians. In fact, just the mention of one might cause her to throw a tire tool. Her disgust for them started when she was just eight and her mother ran off with a traveling country singer, and it only worsened when at seventeen, her rocker boyfriend knocked her up before blowing out of town. As a single mother taking care of her family's collision business, Rae doesn't have time for hook ups, much less a relationship. And if she did make time, a musician would be last on her list, even one as good-looking as Gabe Renard.

Can Gabe find the words to prove not only to Rae, but himself, that she's the only one for him?
New York's Finest
Blogging as *The Socialmedialite*
April 22
LADIES AND GENTS! I have an announcement!

You know that guy I featured on my blog a few months ago? The really, really hot Irish rugby player who plays the position of 'hooker' in the RLI (Rugby League International)? The one with the anger management issues, the body of a gladiator and the face of a movie star? The one with the questionable fashion choices leading me to ask whether he was the lovechild of a leprechaun and a hobbit? Ronan Fitzpatrick? Yeah, that guy.

Well, I have a confession to make…

THE HERMIT

Annie Catrel, social media expert extraordinaire at Davidson & Croft Media and clandestine celebrity blogger, can make anyone shine in the court of public opinion. She is the Socialmedialite, anonymous creator of New York's Finest and the internet's darling. Virtual reality is Annie's forte, but actual reality? Not so much.

THE HOOKER

Ronan Fitzpatrick, aka the best hooker the world of rugby has seen in decades, despises the media—social or otherwise. The press has spun a web of lies depicting him as rugby's wild and reckless bad boy. Suspended from his team, Ronan has come to Manhattan to escape the drama, lay low, fly under the radar. Only, Ronan isn't easy to overlook, and he can't escape the notice of the Socialmedialite…

THE PLAN

When Ronan is sent to Davidson & Croft Media to reshape his public image, he never expects to cross paths with shy but beautiful Annie, nor does he expect his fierce attraction to her. He couldn't be happier when her boss suggests pairing them together.

What lengths will Annie take to keep her virtual identity concealed? And what happens when the hooker discovers who the hermit really is?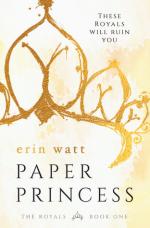 From strip clubs and truck stops to southern coast mansions and prep schools, one girl tries to stay true to herself.

These Royals will ruin you…

Ella Harper is a survivor—a pragmatic optimist. She's spent her whole life moving from town to town with her flighty mother, struggling to make ends meet and believing that someday she'll climb out of the gutter. After her mother's death, Ella is truly alone.

Until Callum Royal appears, plucking Ella out of poverty and tossing her into his posh mansion among his five sons who all hate her. Each Royal boy is more magnetic than the last, but none as captivating as Reed Royal, the boy who is determined to send her back to the slums she came from.

Reed doesn't want her. He says she doesn't belong with the Royals.

He might be right.

Wealth. Excess. Deception. It's like nothing Ella has ever experienced, and if she's going to survive her time in the Royal palace, she'll need to learn to issue her own Royal decrees.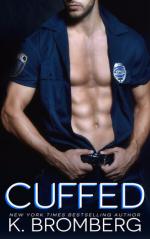 "I hate you. I never want to see you again."

Grant Malone is not the reason I moved back to Sunnyville—at least that's what I tell myself. Yet, those parting words I said to him back in third grade, ring in my ears every time a townsperson brings up one of the Malone boys. I thought time had healed my wounds. I was wrong. Nothing could have prepared me for how I felt when I finally saw him again.

Twenty years does a lot to turn a boy into a man. One who hits all my buttons—sexy, funny, attractive, and a police officer. But Grant is off limits because he knows too much about my past.

But I'm drawn to him. That damn uniform of his doesn't hurt either. It'll be my downfall. I know it.

What's one night of sex going to hurt . . . right?

***

I've always loved Emmy Reeves.

That's why I'm shocked to see her all these years later. The shy girl I once knew is all grown up.

Adventurous and full of life, she owns my heart now, just as much as she did back then. Convincing her of that is a whole different story.

I'll give her the one night she asks for—like that's a hardship—but when it comes to letting her walk away after, she has another thing coming. There's no way in hell I'm letting her go this time without a fight.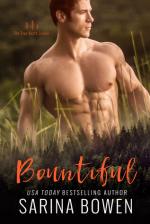 No last names. No life stories. Those were the rules.

Once upon a time a cocky, copper-haired tourist sauntered into Zara's bar. And even though she knew better, Zara indulged in a cure for the small-town blues. It was supposed to be an uncomplicated fling—a few sizzling weeks before he went back to his life, and she moved on.

Until an accidental pregnancy changed her life.

Two years later, she's made peace with the notion that Dave No-Last-Name will never be found. Until one summer day when he walks into her coffee shop, leveling her with the same hot smile that always renders her defenseless.

Dave Beringer has never forgotten the intense month he spent with prickly Zara. Their nights together were the first true intimacy he'd ever experienced. But the discovery of his child is the shock of a lifetime, and his ugly past puts relationships and family out of reach.

Or does it? Vermont's countryside has a way of nurturing even tortured souls. The fields and the orchards—and hard won love—are Bountiful.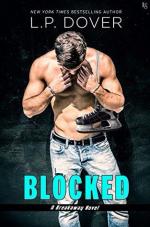 He's got every reason to be cocky . . . until a female cuts him down to size.

I'm Dallas Easton, the best goaltender in the league. I make a damn good living playing hockey, and with women falling at my feet wherever I go, why not enjoy it? I get whatever I want, whenever I want—that is, until I come across the one player who gets the best of me on the ice.

When I try to pummel the dude, all hell breaks loose. Imagine my surprise when the helmet comes off to reveal a woman underneath. And not just any woman, but the sexiest woman I've ever seen. Callie Davis is the complete opposite of the puck bunnies I usually go for, a good girl with sick moves and a selfless streak a mile wide. I need to make amends, but she dodges me at every turn. It doesn't help that Callie's brother hates my guts, or that my agent thinks she's bad for my career.

But I could care less what they think. I can't let our little run-in on the ice be the end of our story. Because when I set my sights on something, I won't rest until I score.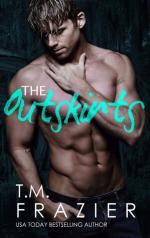 Sawyer wants a life of her own.
Finn wants to forget he ever had one.

After a tragedy, Finn Hollis escapes
into the swamp to be alone.
That is until Sawyer Dixon shows up,
all SCORCHING HOT innocence,
claiming she owns the land less than
fifty feet from his front door.

Sawyer gets under his SKIN, but even worse?
She makes him CRAVE things.
Things Finn hasn't thought about in a very long time.

Finn WANTS Sawyer gone.
Almost as much as he wants her in his BED.

The swamp is about to get a whole lot HOTTER.

The Outskirts was originally set to be a standalone.
It is now book one of a duet.
The Outliers is the title of book two.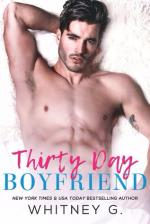 Thirty Day Boyfriend

by

Whitney G.
I should've never agreed to this arrangement...

Thirty days ago, my boss—Mr. Wolf of Wall Street, came to me with an offer I couldn't refuse: Sign my name on the dotted line and pretend to be his fiancée for one month. If I agreed, he would let me out of my employment contract with a "very generous" severance package.

The rules were pretty simple: No intimate kissing, no actual sex. Just pretend to love each other for the press, even though I've secretly wanted to knock that sexy smirk off his face since the first day we met.

I definitely didn't need to think twice about this. I signed my name and started counting down the seconds to when I would never have to deal with his special brand of ass-holery again.

I only made it to one minute...

We argued the entire four-hour flight to his hometown, failed to make a convincing impression with the welcoming press, and right when I was about to knock that arrogant look off his face in real life? He purposely dropped his bath towel in front of me, distracting me with his nine-inch cock to "show me who the bigger person was" in our relationship. Then he gave me his trademark smirk once again and asked if I wanted to consummate our marriage.


Tragically, this is only day one.
We still have 29 more days to go...
Book #3 in the Sweet Little Series. Trusting again and facing the lies that had surrounded her entire life, Beulah is ready to move on. Love and enjoy the man she's found happiness with. When the past comes back yet again with one last skeleton in the closet.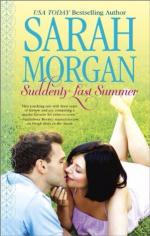 Fiery French chef Élise Philippe is having a seriously bad day. Not only have the opening day plans for her beloved café fallen apart, but Sean O'Neil is back in town, and looking more delectable than ever. Last summer, they shared an electrifying night together…and the memories have Élise really struggling to stick to her one-night-only rule! Her head knows that eventually Sean will be leaving, so all she can do is try to ignore her heart before she spontaneously combusts with lust.

Being back in Vermont—even temporarily—is surgeon Sean O'Neil's worst nightmare. For Sean, returning home to the Snow Crystal Resort means being forced to confront the reasons and the guilt he feels about rejecting his family's rural lifestyle years ago. But discovering that Élise has settled in Vermont and still sets his blood racing is a very welcome distraction! Thinking he can persuade her into a replay of last summer is tempting, but remembering how good they are together is going to make walking away more difficult than he could imagine…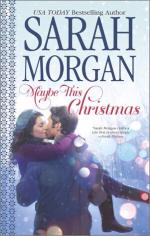 "Uplifting, sexy and warm, Sarah Morgan's O'Neil Brothers series is perfection."—Jill Shalvis, New York Times bestselling author

This winter, ex-skiing champion, reformed heartbreaker and single dad Tyler O'Neil has only one mission—making sure his daughter, Jess, has the best Christmas ever. The fact that his best friend, Brenna, is also temporarily moving into his chalet at the overbooked Snow Crystal resort is a delicious distraction he's simply going to have to ignore. Theirs is the one relationship he's never ruined, and he's not about to start now.

Ski pro Brenna Daniels knows all about the perils of unrequited love—she's been in love with Tyler for years. But living with him is absolute torture…how can she concentrate on being his friend when he's sleeping in the room next door? Then when Tyler kisses Brenna, suddenly the relationship she's always dreamed of feels so close she could almost touch it. Could this be the Christmas her dreams of a happy-ever-after finally come true?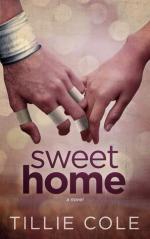 At age twenty, Molly Shakespeare knows a lot.

She knows Descartes and Kant.

She knows academia and Oxford.

She knows that the people who love you leave you.

She knows how to be alone.

But when Molly leaves England's grey skies behind to start a new life at the University of Alabama, she finds that she has a lot to learn — she didn't know a summer could be so hot, she didn't know students could be so intimidating, and she certainly didn't know just how much the folks of Alabama love their football.

When a chance encounter with notorious star quarterback, Romeo Prince, leaves her unable to think of anything but his chocolate-brown eyes, dirty-blond hair and perfect physique, Molly soon realises that her quiet, solitary life is about to dramatically change forever...
Indy Savage, cop's daughter, rock chick and used bookstore owner, has been in love with Lee Nightingale, once bad boy, now the man behind Nightingale Investigations, since she was five years old. No matter what ingenious schemes Indy used to capture his attention, Lee never showed an interest and Indy finally gave up. Now Indy's employee, Rosie, has lost a bag of diamonds and bad guys are shooting at him. When Indy gets involved, Lee is forced to help. Complicating matters, Lee has decided he's interested, Indy's decided she's not. But she can't seem to keep Lee out of her life when she's repeatedly stun gunned, kidnapped and there are car bombs exploding (not to mention she's finding dead bodies).

Indy's best bet is to solve the mystery of the diamonds before Lee. Lee's challenge is to keep Indy alive and, at the same time, win back her heart.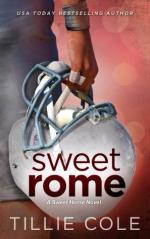 You met Romeo Prince in the Amazon & USA Today bestselling novel, Sweet Home. Now hear the story from his lips: unbarred, uncensored, and raw to the bone.

It makes me laugh when I hear folks think Molly and I rushed into things too fast, spouting that we couldn't possibly have felt what we did for each other in such a short space of time. I say, how the hell would they know? We made it, didn't we? She became my whole life, didn't she? And as for my folks not being real, being true? Tell that to me aged ten, eleven, twelve—damn, all my bastard life—when I was never enough, when I was beaten until I bled for being too good at football and not being everything they'd dreamed: the perfectly dutiful son. Tell that to thousands of kids around the world getting wailed on by asshole parents for whatever stupid reason; tell them evil don't exist in their eyes.

Fuck Romeo and Juliet. This is the story of me and my girl, from my lips. No mushy sentiment, no cheese, just the plain, hard truth, and, because I'm feeling generous, I'm going to let you in on more of our story too.
No Rating...because it's the exact same book that the 1rst one.. only here is from the male pvo...and I shouldn't have read it just after the 1rst one...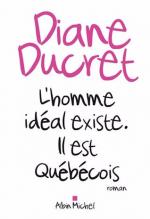 L'homme idéal existe. Il est Québécois

by

Diane Ducret
Bonne nouvelle : l'homme idéal existe !
Il ne parle pas : il jase. Il n'embrasse pas : il frenche.
Il ne se déshabille pas : il se criss à poèlle.
Vous l'aurez deviné : il est Québécois.

Diane Ducret rhabille le mythe du Prince Charmant.
L'homme idéal ? Satisfaite ou remboursée !
No Rating... I just didn't liked it :( :( sorry ... Je n'ai pas aimé... désolée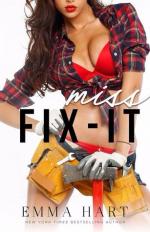 One handywoman.
One single dad.
One set of twins.
And the wall isn't the only thing being drilled…
I learned the hard way that being a handywoman isn't easy. The questions, the stares—the assumption I'm the proud owner of a cock and balls. Not that it matters. I've proven over and over that I'm ready for anything the judgmental asses throw at me.
Except the hot, single dad of twins who just moved to town.
Brantley Cooper gets the shock of his life when I show up on his doorstep to fix up his kids' new rooms. His son is confused why 'the pretty lady has a drill,' and his daughter has a new obsession—me.
On paper, my job is easy. Go in, do their bedrooms, and leave.
In theory, I'm spending eight hours a day with a guarded, sexy as hell guy, and I'm staying for dinner more often than I'm eating it alone, on my couch, with Friends re-runs.
I shouldn't be staying for dinner. I shouldn't be helping him out with the twins. I shouldn't be falling in love with tiny toes and dimpled cheeks.
And I most definitely should not be kissing my client.
Oops…
MISS FIX-IT is a brand-new, standalone romantic comedy from New York Times bestselling author, Emma Hart, who brought you BEING BROOKE and CATCHING CARLY.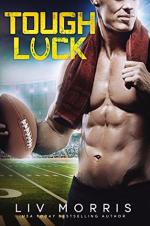 The game's over for me - and she won.
I don't just want her... I crave her.
When Amelia Adams tells everyone my days as Chicago's quarterback are over, I vow never to give her another minute of my time--until the team owner sees an empty stadium, and forces us together on a reality show in hopes of filling the seats.

When Bryce Luck becomes my assignment, I swear his brown eyes and dimpled smile won't make my knees weak--that I'll keep a professional boundary. But I can't fight this attraction, especially when he whispers sweet nothings in my ear and promises to do a million dirty things to me when the cameras stop rolling.

When the show is over, and the game's been played, will our love become a reality? Or are we just out of luck?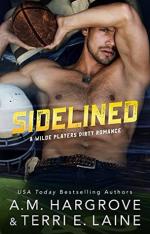 Cassidy

I hate him… I love him… He destroyed me… and now He needs me.

Fletcher Wilde, a gorgeous quarterback in the NFL, is the man I should have married. He's the one that walked away, choosing football over me. He shouldn't be back, especially not looking that good. And not sitting in my waiting room chair with a bum leg and confident cocky grin that sets my insides on fire.

It's impossible to forget how he rocked my world both in and out of the bedroom. Keeping things professional won't be easy, especially given our history. My mission, however, is getting him back on the field—the place he loved more than me, while not losing myself in him all over again.

Fletcher

Cassidy Miller is the only physical therapist in town. And after a potential career ending injury, she's my ticket back on the field or my NFL career is over. Unfortunately, she's the same Cassidy who ripped my heart to shreds when I thought we were a team.

Sexy and intelligent, she's the last person I thought I'd see again. As it turns out, she looks better than ever, making me want that smart mouth of hers doing things to me that would drive a sane man crazy.

Lucky for me, my determination is legendary. Winning is in my blood, which makes me number one on the field. Being a single-minded man, my focus is to get her back and this time for good.

3/5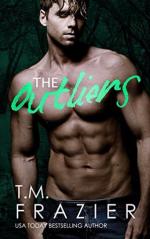 That's the love Finn and I share.
It's the kind you can never recover from.
The kind you never WANT to recover from.

That's why we'll do everything and anything to protect it.

When my past chases me all the way to Outskirts, we have to make a choice.
Let the lies destroy our chance at future together or...bury them deep in the swamp where they belong.

Got a shovel?
These Royals will ruin you…

From mortal enemies to unexpected allies, two teenagers try to protect everything that matters most.

Ella Harper has met every challenge that life has thrown her way. She's tough, resilient, and willing to do whatever it takes to defend the people she loves, but the challenge of a long-lost father and a boyfriend whose life is on the line might be too much for even Ella to overcome.

Reed Royal has a quick temper and even faster fists. But his tendency to meet every obstacle with violence has finally caught up with him. If he wants to save himself and the girl he loves, he'll need to rise above his tortured past and tarnished reputation.

No one believes Ella can survive the Royals. Everyone is sure Reed will destroy them all.
They may be right.

With everything and everyone conspiring to keep them apart, Ella and Reed must find a way to beat the law, save their families, and unravel all the secrets in their Twisted Palace.

---------------

Q: Are you trying to kill us?

No, but we love Ella so much and her adventures with the Royals that we needed to write this third book. You'll see when you read it.

Q: Who's in this book? And don't say Ella!

Ella, the five Royal brothers, and a few more huge surprises.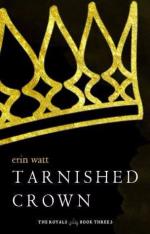 Gideon and Savannah's tortured love story.
I have a history of picking the wrong guy. Gay? Player? Momma's boy? Check, check and check.

Now I can't stop fantasizing about one of the customers at the coffee shop I work at between classes. It's just a harmless crush, right? It's not like I ever see this guy outside of the coffee shop. It's not like I'm going to see him while attempting to get birth control at the student clinic. While wearing a paper gown. While sitting on an exam table. Because he's the doctor. Shoot. Me.

But what if, for once, the man I've had the dirtiest, most scandalous fantasies about turned out to be everything but wrong?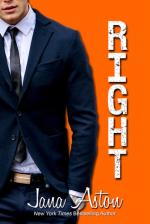 My childhood was perfect.

I've led a charmed life, and I'm not going to blow it now by picking the wrong guy.

I've got my sights set on my brother's best friend.

He's known my family for years. He's reliable and kind and handsome.

Sure, he's been avoiding me since I was six.

I'm a bit aggressive for him, maybe.

But he's the one… right?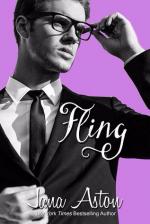 I have a crush on my boss' best friend.
At least it's not my brother's best friend.
Or my best friend's brother.
Or… never mind. It's all pretty cliche.

And worse? My boss' best friend is his business partner. Which sort of makes him my boss too. Okay - it's not sort of. It's definite. Gabe Laurent is off limits. Totally off limits.

Which is fine. I make do with my imagination. He'll never know. Ever. Unless my work bestie passes me an eighties-style teen movie sex quiz during a meeting and I fill it out.

And it ends up in Gabe's hands…
"Knock knock!"
"Um… Who's there?"

Yeah. That was me, on my last date. Before you feel sorry for me
you should know that I was the one telling the jokes. Jokes as in
plural, because I didn't stop with just one. Of course not.

Hi, I'm Chloe Scott. The most awkward single girl in the city.
But I'm going to get it together. I am.

I'm going to learn how to date like a grown up.
I'm going to have an orgasm not given to myself.
I'm going to fall in love and live happily ever after.

Right after I get out of this interrogation roo