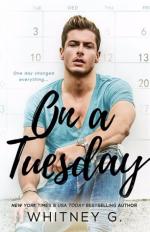 We met on a Tuesday.
Became best friends, then lovers, on a Tuesday.
And everything fell apart on a Tuesday...
Charlotte Taylor has three automatic strikes in my book: 1) She hates me. She also claims that I'm a "domineering jerk with a huge, overbearing ego." (I
do
have something huge. It's not my ego, though.) 2) She takes our mandatory tutoring sessions way too seriously. 3) She's sexy as hell...And a virgin.
At least, those were her strikes before our study sessions started lasting longer than they were supposed to. Until one innocent kiss became a hundred dirty ones, and until she became the first woman I ever fell hard for.
Our future together after graduation was supposed to be set:
Professional football for me. Law school for her.
But she left me at the end of the semester with no explanation, and then she completely disappeared from my life.
Until tonight.
We met on a Tuesday.
Became everything, then nothing, on a Tuesday.
And now it's seven years later, on a Tuesday...
3/5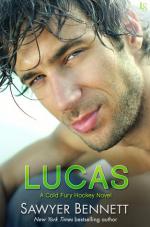 The Carolina Cold Fury hockey team is stacked with hotshots. But when a new player joins their ranks, he learns that even superstars can't go it alone when it comes to love.
Lucas Fournier is only serious about one thing: hockey. The league's fun-loving charmer, Luc is always up for a good prank or a great lay, and he has no intention of settling down. But being traded to the Carolina Cold Fury—and to play alongside his big brother, Max—is no joke. With another title in sight, the last thing Luc wants is to let his new teammates down. To succeed, Luc will need to keep his head in the game and the most . . . er,
demanding
member of his anatomy in check. But when temptation hits, Luc hits back harder.
Museum curator Stephanie Frazier has always put business before pleasure, which just about explains her nonexistent sex life. But when Stephanie meets Luc at a champagne-fueled gala, she finds herself flirting like crazy—and going home with the uninhibited athlete. For one night, she learns what passion is all about. She just never counted on the little surprise Luc leaves behind. And that's when things really start to get . . . interesting.
Dear Bridget,
I'm writing this letter because it's highly doubtful I'll ever garner the courage to say this to your face.
So, here goes.
We're totally wrong for each other. You're the proper single mum with a good head on your shoulders. I'm just the carefree British doctor passing through town and temporarily living in your converted garage until I head back to England.
But here's the thing… for some bloody reason, I can't stop thinking about you in very inappropriate ways.
I want you.
The only reason I'm even admitting all of this to you right now is because I don't believe it's one-sided. I notice your eyes when you look at me, too. And as crass as I appear when we're joking around about sex, my attraction to you is not a joke.
So, what's the purpose of this note? I guess it's a reminder that we're adults, that sex is healthy and natural, and that you can find me just through the door past the kitchen. More specifically, it's to let you know that I'm leaving said door cracked open from now on in case you'd like to visit me in the middle of the night sometime.
No questions asked.
Think about it.
Or don't.
Whatever you choose.
It's doubtful I'll even end up sliding this letter under your door anyway.
--Simon
4/5
Twenty-four-year-old truck stop waitress and single mother Catherine Wright has simple goals: to give her five-year-old daughter a happy life and to never again be the talk of the town in Balsam, Pennsylvania: population two thousand outside of tourist season.
And then one foggy night, on a lonely road back from another failed attempt at a relationship, Catherine saves a man's life. It isn't until after the police have arrived that Catherine realizes exactly who it is she has saved: Brett Madden, hockey icon and media darling.
Catherine has already had her fifteen minutes of fame and the last thing she wants is to have her past dragged back into the spotlight, only this time on a national stage. So she hides her identity. It works.
For a time.
But when she finds the man she saved standing on her doorstep, desperate to thank her, all that changes. What begins as an immediate friendship quickly turns into something neither of them expected. Something that Catherine isn't sure she can handle; something that Catherine is afraid to trust.
Because how long can an extraordinary man like Brett be interested in an ordinary woman like Catherine…before the spark fades?