She's one addiction he can't resist.

Wyatt Jennings has been called a lot of things by the media. Bad-boy rocker. Intense drummer. Addict.

Finally out of rehab and desperate for a fresh start, Wyatt rejoins his mega-platinum rock band Shaken Dirty as they prepare for their world tour. But Wyatt's demons are never far behind, always nipping at his heels for one. More. Fix.

Enter Poppy Germaine, the band's new social media consultant. A beautiful bombshell who somehow manages to get underneath Wyatt's skin, Poppy's an addiction Wyatt can get behind. And even though she's with the label—and therefore off-limits—he craves her. Needs her.

Except Poppy isn't actually a social media consultant. She's the daughter of the label's CEO, sent undercover to babysit Wyatt and keep him from falling off the wagon again. Proving herself to her father is Poppy's only goal—until she finds herself in Wyatt's bed. But if Wyatt discovers the truth, it could send him spiraling all over again…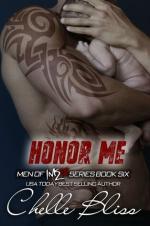 Honor Me (Men of Inked #6) by Chelle Bliss
I had everything I ever wanted—a wife, a kid, with two more on the way. I was living the American dream. After the babies were born, we hit a rough patch. I did everything to prove my love, to show Suzy that nothing was more important than her. After some work and a lot of time, we found our groove again. Just when life had evened out, a familiar enemy came back to haunt us. It wasn't my past that followed us, but my brother's. When the danger gets too close, I'll do anything to defend my family. There's nothing more important than the people I love, and I'll protect what's mine—even if it costs me my life
When I Fall (Alabama Summer #3) by J. Daniels

For the past nine years, I've kept my heart as far away from my dick as possible.

Those two can't be anywhere near each other. They don't play nice, and one of them undoubtedly winds up getting hurt.

Not my dick. My dick is good.
The women I take home know exactly what they're getting from me—sex. Nothing more. At least, that's what's supposed to happen. The sweet brunette from Kentucky I set my sights on tonight shouldn't have been any different. I had her right where I wanted her. Where I needed her. But when my past comes walking into McGill's pub, the woman in my arms decides to take things to a whole new level, putting me into a situation I never saw coming.

My heart is about to get f**ked. My dick can sit this one out.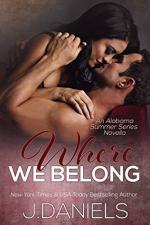 Where We Belong (Alabama Summer #3.5) by J. Daniels

Ben and Mia Kelly can't seem to catch a break.
Grueling night shift and opposing schedules have left the passionate couple geared up and ready for some much needed alone time. There's only one thing standing in their way.

Parenthood.

With two curious boys who have mastered the art of cock-blocking roaming the house, Ben and Mia, sexually frustrated beyond reason, quickly resort to surprise sexcapades and naughty little trysts whenever and however they can get them.

Who said anything about keeping things legal?
Assume the position. Things are about to heat up in the south.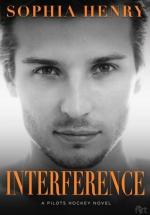 Interference (Pilots Hockey #3) By Sophia Henry
Linden Meadows doesn't back down from anyone, especially if her family's involved. So when her little brother's new hockey coach benches him in the middle of a game, Linden lets him have it. She also notices that the coach is way hotter than she expects, but Linden won't let herself get burned by another athlete. Been there, done that—and had a kid at seventeen to show for it.

When Jason Taylor isn't taking abuse from hockey moms, he's patrolling the streets as a member of the Bridgeland PD. After Jason pulls Linden over for speeding, he begins to see that there's more to her than a big mouth . . . or a lead foot. Their chemistry leads to good company, intense conversation, and an intimacy that pushes beyond the boundaries of friendship. And yet Linden's decision to keep her now three-year-old son, Holden, is a painful reminder to Jason that his own mother gave him up for adoption.

Linden's sure she's found the man to round out their family. But when Holden's deadbeat dad forces his way back into the picture, Jason starts to back off. He needs time—to heal, to grow, and to love with all his heart.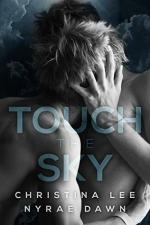 Lucas Barnett and Gabriel Stewart didn't have it easy as kids. They were only trying to deal with bad situations at home when they became lifelines for each other. Their pipe dream was to someday meet in LA, where Lucas would design skyscrapers, and Gabriel would learn to fly. But then Gabriel disappeared without so much as a goodbye, and Lucas got himself in trouble with the law.

Five years later, both men are at a loss when they run into each other at a Hollywood bar. Lucas is still angry, but it's not as if Gabriel could control how his mind and body had betrayed him. Being found on the ledge of that bridge had changed everything.

The attraction is immediate, but it's more than their inability to keep their hands off each other. Neither man expects the fierce connection pulling them together. Unfortunately, ignoring their problems doesn't make them disappear. Gabriel's internal struggles are serious…dangerous. And no matter how much Lucas wants it to be true, saving Gabriel won't make up for not being able to save his mom. If they don't find the strength to face their own demons before the darkness takes hold, they risk more than just losing each other forever.
Playboy Pilot by Penelope Ward, Vi Keeland
Money or love? Which would you choose?

You probably just answered the question in your head thinking it's an easy decision.

For me, it's not. Did I mention it's a lot of money? A hell of a lot.

I needed to go far away to think it through.

As I embarked on an impulsive trip, I hit a detour when I met sexy Carter in the airport lounge. We struck up a heated conversation.

Then, he left.

I thought I'd never see him again.

But fate had other plans.

Surprise! He was the pilot of my flight.

The bigger surprise was the adventure that followed after the plane landed.

Carter was dangerous and always on the move.

Even though our connection was magnetic, I knew it was only temporary.

He would give me tickets, and I would follow him around the world to exotic places.

A bevy of flight attendant exes and rumors about Carter's reputation were never far behind.

I didn't know what to believe.

But I was addicted. Nothing else mattered anymore. And I was going to get hurt. Because a part of me wanted to be the one to finally ground the playboy pilot.

At the very least, he was taking me on a thrilling ride.

All good things must come to an end, right?

Except our ending was one I didn't see coming.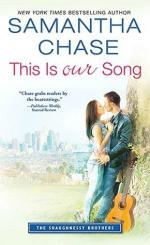 She knows him by reputation
Riley Shaughnessy knew that to stand out in his large family, he'd have to go big. Making a name for himself as a musician wasn't easy, but he followed his dreams to rock-star success. But the relentless expectations of fans is not helping the slump he's in now. So of course the person who attracts him is the woman who is not impressed by fame.

Which gives Riley Shaughnessy a lot to prove
Entertainment reporter Savannah Daly is completely unfazed by pretty-boy rock stars. She's just here to get her interview and write her story. But spending an entire month with the Shaughnessys is going to show Savannah a side of Riley she never could have guessed
4/5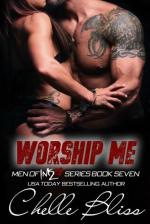 Worship Me (Men of Inked #7) by Chelle Bliss
James Caldo needs to control everything in his life, even his wife, Izzy Gallo. But she's headstrong and has a need to test her husband's limits as much as he pushes hers.
When a case at ALFA Private Investigation takes a dark turn, James is forced to get Izzy involved in an undercover sting, and the assignment will test her sexual boundaries as well as the very foundation of their relationship.
Can Izzy hold her tongue long enough to keep them both safe? Or will her unwillingness to fully submit draw the eye of the very man they're after?
When Mia Corelli returns to Alabama for a summer of fun with her childhood best friend, Tessa, there's only one thing keeping her on edge. One person that she'd do anything to avoid.

Benjamin Kelly. World's biggest dickhead.

Mia hates him with a fury and has no desire to ever see him again. When she decides to start her summer off with a bang and finally give away her v-card, she unknowingly hands it over to the one guy that excelled at making her life miserable, learning a valuable lesson in the process.

Always get the name of the guy you're going home with.

Ben can't get the girl he spent one night with out of his head. When she leaves him the next morning, he thinks he'll never see her again. Until he sees her lounging by the pool with his sister.

Mia is determined to hate Ben, even though she can't forget him.

Ben is determined to prove he's not the same guy he used to be.

What happens when the one person you wish never existed becomes the one person you can't imagine being without?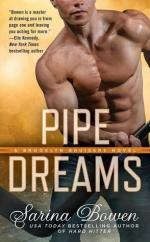 A goalie has to trust his instincts, even when taking a shot to the heart…

Mike Beacon is a champion at defending the net, but off the ice, he's not so lucky. A widower and a single father, he's never forgotten Lauren Williams, the ex who gave him the best year of his life. When Lauren reappears in the Bruisers office during the playoffs, Beacon sees his chance to make things right.

Lauren hates that she's forced to travel with the team she used to work for and the man who broke her heart. There's still undeniable sexual tension running between her and Mike, but she won't go down that road again. She's focused on her plans for the future—she doesn't need a man to make her dreams of motherhood come true.

Lauren plays her best defensive game, but she's no match for the dark-eyed goalie. When the field of play moves to Florida, things heat up on the beach.

One of Mike's biggest fans doesn't approve—his teenage daughter. But a true competitor knows not to waste the perfect shot at love.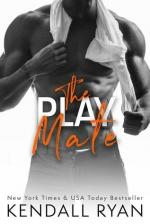 The Play Mate (Roommates #2) by Kendall Ryan
His best friend's little sister is all grown up … and ready to play in a whole new way.

Smith Hamilton has it all—he's smart, good-looking and loaded. But he remembers a time when he had nothing and no one, so he's not about to mess up, especially with his best friend's little sister. That means keeping Evie at arm's length … even though the once pesky little girl is now a buxom bombshell. A sexy blonde who pushes his self-control to the limit the night she crawls into bed with him.

Evie Reed knows she's blessed—with an exclusive education, a family who loves her, and a new job managing social media for her family's lingerie company. But she wants more, like a reason to wear the sexy lingerie herself. She has just the man in mind to help with that. She's crushed on Smith forever. Surely tricking her way into his bed will force him to see her in a new, adult way.

Except that when Evie's plan leads to disaster, she and Smith must decide—ignore the attraction sizzling between them, or become play mates and risk it all.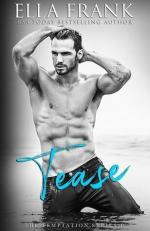 Tease (Temptation #4) by Ella Frank
Tease - verb: to tantalize especially by arousing desire or curiosity often without intending to satisfy it....unless your name is Tate Morrison.

It's been four years since Logan Mitchell walked into Tate's life and irrevocably changed it. Four years since the sexy as sin lawyer dared him to try, and four years since Tate won his love.

Now, as they approach the next chapter of their lives Logan is determined they won't end up like many of their friends. Settled. Domestic. Boring. However, that's easier said than done. With busy careers and working odd hours, finding time for one another is becoming increasingly difficult.

But that sh*t isn't going to fly with Logan or Tate.

The two of them are determined to compromise to get what it is they want, and what they want is each other.

Tease is the sexy, tantalizing continuation of the two men who stole your heart... and popped your cherry.
I have been watching him since I was a child.
He didn't notice me back then and it didn't matter. Brad Snyder, guitarist and singer for one of the world's greatest bands, was my entire life.
My father, the CEO of Ramsey Records, takes credit for all of Brad's success, trying to control him in the same way he's controlled me.
But I finally get an opportunity to prove myself.
To be wild.
To be free.
Today I'm auditioning to be the replacement bass player for Brad's band. If I get the job, I'll go on tour and work with Brad every day, in very close proximity.
There's only one rule: he's not allowed to touch the boss's daughter.
Remember when I said that Brad never used to notice little ol' me?
Well, Brad's noticing me now.
In a way that's going to get us both in trouble.
My name is Lael Ramsey and we all know how this will turn out.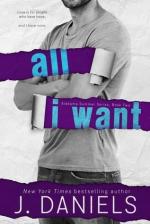 Luke Evans is a heartbreaker.
I didn't want to give mine to him. Not when he kept me out.
He gave me enough, just enough to make me fall in love with him. I say this to convince myself. But I know the truth.
I would've fallen in love with him at a distance.
Handing my heart over to Luke was the easiest thing I've ever done. I was naive when I wished for more, when I hoped he wanted the same things I did.
I try to hate him. I try to forget him.
But it's not that easy.
Love is a ruthless bitch, and I'm her latest victim.
~*~
Tessa Kelly is a man-eater.
When she sets her sights on you, she doesn't just consume your heart, she goes for your soul.
What we had was perfect, real, and all I would ever want.
But she destroyed it.
She destroyed us.
I try to hate her. I try to forget her.
But it's not that easy.
Love is for people who have hope, and I have none.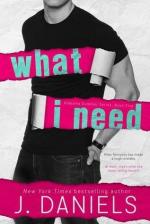 Riley Tennyson has made a huge mistake.

At least, that's what she keeps telling herself.

Showing up to her brother's wedding pissed off and newly single, Riley seeks comfort in solitude and an open bar, until the gorgeous and irresistibly charming CJ Tully makes her a better offer—a wild night with the master of smooth-talking where nothing is off limits.

Riley does what any single woman would do, and a connection is made. One neither one of them can ignore. But when she comes home to the boyfriend she no longer thought she had, Riley buries her secret and begs CJ to do the same.

Forget about each other. It was a mistake. That's all it was… right?

Desires are hidden. Distance is kept. Until one night CJ makes the ultimate sacrifice, and Riley can no longer avoid the man she can't stop thinking about.

Not with him sleeping down the hall…