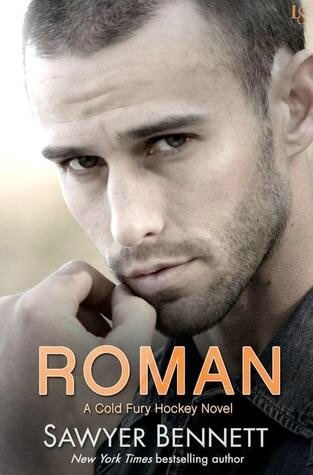 New York Times bestselling author Sawyer Bennett steams up the ice all over again as the Carolina Cold Fury hockey team's hottest bad boy gets his first taste of something good.

In a league full of troublemakers, Cold Fury defenseman Roman Sýkora stands out—at least when it comes to negative publicity. When he's not chilling in the penalty box, the sizzling Czech skate demon is racking up tabloid headlines for his scandalous behavior with the ladies. But now Roman's feeling the burn from management to clean up his act, or else. Luckily he's got an enticing distraction: a fun-loving barista who plays the ukulele and brings out a side of Roman he didn't know he had.

Lexi Robertson came to Raleigh, North Carolina, to finally meet her father, Brian Brannon, and her half sister, Gray, both of whom work in the Cold Fury's front office. That's where she first meets sexy, intimidating Roman—who's really a big softie at heart. As one relationship takes off, another begins: Brian seems to be clicking with Lexi's boss at the coffee shop. But when the friction between Roman and her new family heats up, Lexi wonders whether she's a pawn in their game. Feeling hurt and foolish, Lexi's ready to quit while she's ahead. Trouble is, Roman's not ready to quit on her.
Review
Once again she did it! Yeah I know I repeat myselft when I talk about Sawyer Bennett, but I can't help myself, I'm such a groupie!
and you know what? I don't know shit about Hockey! yeah that's right, I'm french and Hockey is not very popular here in France, but god know I love this serie about all this hockey players! Sawyer Bennett know what she's talking about, that's for sure!
You will fall in love with Roman... like all his team mates his a player and he love woman! and unfortunatly making headlines in the tabloid.
Lexi, is a strong woman, but she just want to know her dad and her sister. and she didn't want to take risk to lose them. They are all that she have... Lexi had just discovered that her dad was the Cold Fury coach... so getting involve with a player, it's not really wise... but you can't control feelings, right?!
Like always with Sawyer Bennett, it's well written... it's a cute and funny story with just a little bit of drama! :))
Bring me the next one ^^
4/5