Available on March 21st
Most people called it a cult. But for twenty years, Josh & Caleb called it home.
In Paradise, there is no television. No fast food. Just long hours of farm work and prayer on a dusty Wyoming ranch, and nights in a crowded bunkhouse. The boys of the Compound are kept far from the sinners' world.
But Joshua doesn't need temptation to sin. His whole life, he's wanted his best friend, Caleb. By day they work side by side. Only when Josh closes his eyes at night can they be together the way he craves.
It can never be. And his survival depends on keeping his terrible desires secret.
Caleb has always protected Josh against the worst of the bullying at the Compound. But he has secrets of his own, and a plan to get away — until it all backfires.
Josh finds himself homeless in a world that doesn't want him. Can Caleb find him in time? And will they find a place of safety, where he can admit to Josh how he really feels?
Warning: Contains a hot male/male romance, copious instances of taking the Lord's name in vain, and love against the kitchen counter. This book was previously released under the title: In Front of God & Everyone. For more about its previous publication, you can read this blog post.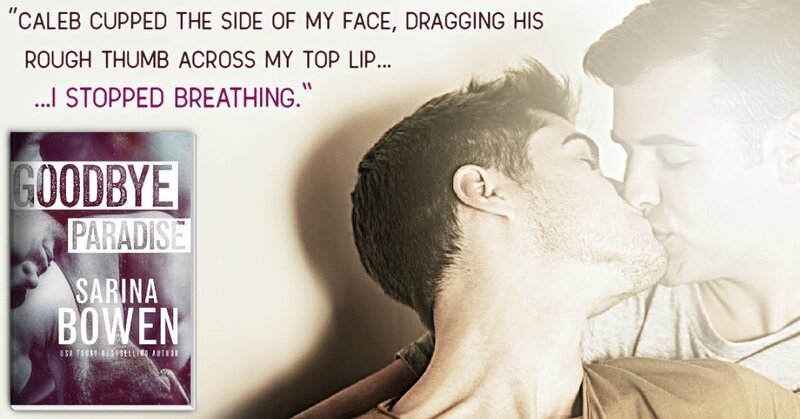 Goodbye Paradise
➜ Amazon: http://geni.us/GPamazon
➜ iBooks: soon
➜ B&N: http://geni.us/GPnook
➜ Kobo: http://geni.us/GPkobo
➜ Google: http://geni.us/GPgoogle
Review
what a book! Sarina dit it again! she rocks my world as always! She's such a good writer and she know how to write a good MM book! Nobody can denied this!
I love that she always bring us a new world! This book take place in a strange world for me. I was not very aware of this world... Maybe it's because I'm french, I don"t know but it doesn't matter in the end, because Sarina did the job !
This is the journey about two young men who are descovering the "real" world after their "freedom". Joshua and Caleb are so endearing... they are so cute together... I must say that I had a crush on Josh.. he's so innocent... naive... The world is so strange to him. He didn't have much confidence in himself. He think he's weak and can't do anything.. but he's so wrong, he just need time to figure it out. Caleb is more stronger. He know how to hide his feelings for Joshua...and he know more about the world than Joshua...
With this book we will follow them during their discovery of the world...and it's not that easy!
This book is so well writing! it's cute, intense and emotional !
Can't wait to read the next one!
5/5