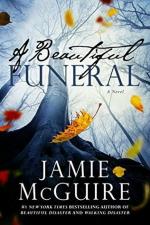 Losing has never been easy for a Maddox, but death always wins.

Eleven years to the day after eloping in Vegas with Abby, Special Agent Travis Maddox delivers his own brand of vigilante justice to mob boss Benny Carlisi. Vegas's oldest and most violent crime family is now preparing for vengeance, and the entire Maddox family is a target.

The secret Thomas and Travis have kept for a decade will be revealed to the rest of the family, and for the first time the Maddoxes will be at odds. While none of them are strangers to loss, the family has grown, and the risk is higher than ever. With brothers against brothers and wives taking sides, each member will make a choice—let the fear tear them apart, or make them stronger.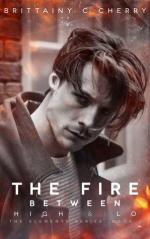 There once was a boy, and I loved him.
Logan Francis Silverstone was the complete opposite of me. I danced while he stood still. He was quiet, and I was always running my mouth. He struggled to find a smile while I refused to frown.
The night I saw the darkness that truly lived inside of him, I couldn't look away.
We were broken together, yet somehow whole. We were wrong together, but always right. We were the stars that burned across the night sky, searching for a wish, praying for better tomorrows.
Until the day I lost him. He threw us away with one hasty decision—a decision that changed us forever.
There once was a boy, and I loved him.
And for a few breaths, a few whispers, a few moments, I think he loved me, too.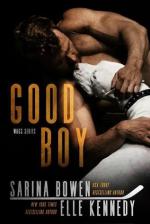 Hosting her brother's wedding for an MVP guest list is the challenge of Jess Canning's life. Already the family screw-up, she can't afford to fail. And nobody (nobody!) can learn of the colossal mistake she made with the best man during a weak moment last spring. It was wrong, and there will not be a repeat. Absolutely not. Even if he is the sexiest thing on two legs.

Blake Riley sees the wedding as fate's gift to him. Jess is the maid of honor and he's the best man? Let the games begin. So what if he's facing a little (fine, a lot) of resistance? He just needs to convince the stubborn blonde that he's really a good boy with a bad rap. Luckily, every professional hockey player knows that you've got to make an effort if you want to score.
But Jess has more pressing issues to deal with than sexy-times with a giant man-child. Such as: Will the ceremony start on time, even though someone got grandma drunk? Does glitter ever belong at a wedding? And is it wrong to murder the best man?
Caution: May cause accidental aspiration of tea or coffee. Do not read in a public place where loud laughter is inappropriate. Contains hot but hilarious hockey players, puppy cuddling and a snarky pair of underwea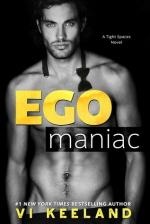 The night I met Drew Jagger, he'd just broken into my new Park Avenue office.
I dialed 9-1-1 before proceeding to attack him with my fancy new Krav Maga skills.
He quickly restrained me, then chuckled, finding my attempted assault amusing.

Of course, my intruder had to be arrogant.
Only, turned out, he wasn't an intruder at all.

Drew was the rightful occupant of my new office. He'd been on vacation while his posh space was renovated.
Which was how a scammer got away with leasing me office space that wasn't really available for rent.
I was swindled out of ten grand.

The next day, after hours at the police station, Drew took pity on me and made me an offer I couldn't refuse. In exchange for answering his phones while his secretary was out, he'd let me stay until I found a new place.
I probably should have acted grateful and kept my mouth shut when I overheard the advice he was spewing to his clients. But I couldn't help giving him a piece of my mind.
I never expected my body to react every time we argued. Especially when that was all we seemed to be able to do.

The two of us were complete opposites. Drew was a bitter, angry, gorgeous-as-all-hell, destroyer of relationships. And my job was to help people save their marriages.
The only thing the two of us had in common was the space we were sharing.
And an attraction that was getting harder to deny by the day.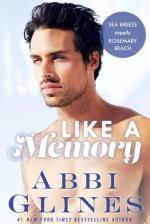 Like a Memory by Abbi Glines
One memory.
One special summer.
The one thing Bliss had lost herself in when the fear and sickness were too much, moments never to be damaged by the harsh reality that followed… until now.
Bliss York didn't live a normal teenage life. She didn't go to Friday night football games, walk the halls with her friends every day, go to her prom or even walk to receive her diploma. It had all been taken from her the fall that she was fifteen years old and she was given the diagnosis no one ever wants to hear.
She had leukemia.
Seven years after spending a summer with a girl who he knew would always be his first love and the one who got away, Nate Finlay returns to Sea Breeze to help his fiancé open her new boutique clothing store. When the new employee walks in Nate is taken back seven years to the girl he thought he'd love forever. The one who never answered his calls or returned his text. The one who shut him out completely with not even a goodbye and broke his heart.
They've each become someone different. No longer the young teens with stars in their eyes. But does that matter when your heart still says that's the one.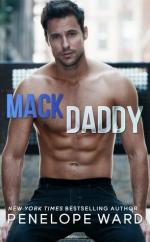 Single Dad. Second Chances. Meet Mack in the newest STANDALONE novel from New York Times bestselling author, Penelope Ward.
They called him Mack Daddy. No, seriously, his name was Mack. Short for Mackenzie. Thus, the nickname. Perfect, right?
So was he: perfect. The perfect physical male specimen.
At the private school where I taught, Mack Morrison was the only man around in a sea of women.
Everyone wanted a piece of the hot, single father of the sweet little boy.
I became a woman I didn't recognize, someone riddled with jealousy, because they didn't know that—to me—he was much more.
They didn't know about our past.
He'd chosen my school for his son on purpose, because Mack and I, we had unfinished business.
As my friend, Lorelai, so eloquently put it: "Unfinished business between two people who are clearly attracted to each other is like an eternal case of blue balls." And I was suffering in pain from my case.
I was still intensely attracted to Mack. I tried to resist him, immersing myself further into a relationship with someone else just to protect my heart.
Not to mention, getting involved with a parent was strictly against school rules. But seeing Mack day in and day out was breaking me down.
And soon I might be breaking all the rules.
Swimsuits, sun, surfing, and a sexy Samoan. I headed to the island of Oahu, Hawaii to meet with cutting-edge swimsuit fashion designer, Angel D'Amico, to serve as head model for the "Beauty Comes in All Sizes" swimsuit campaign. The designer wants to show the world that beauty is not just a size two. My curves got me into this gig, and, the moment I laid eyes on my modeling "partner," I'd never been happier with my buxom form.

Tai Niko had everything the average man lacked. Height, broad shoulders, a nipped in waist, square pecs, tree trunk thighs, and a look that rivaled "The Rock." The part that made me drool and weakened my knees, was the thick, intricate tribal tattoos running down the entire left side of his muscled frame from shoulder to ankle. The design was unlike anything I'd ever seen, and I couldn't wait to trace the tips of my fingers over every inch.
July (Calendar Girl #7) by Audrey Carlan
Hip-hop, Miami heat, and the Latin Lov-ah.

The second half to this year-long journey has taken me to Magic City…Miami. I've been hired by the nation's top hip-hop artist, Anton Santiago. His name is as sexy as he is, and it rolls off the tongue the same way his muscled form rolls to his music. He goes by the name Latin Lov-ah, and boy does he work that title from his rock-hard body, Latin hip-hop fusion dance moves, to the way he beds his women.
He's raw, dirty, and one hundred percent player...and I want to wrap my naked body all over him and forget about everything.
Every word that comes out of his mouth is a siren's song.
Every thrust of his hips draws me closer.
Every breath against my neck sends me into a tailspin of need and desire.
After what happened in June, I need to rip the bandage off. Move on. Anton could be just the thing I need to get my groove back.
I was hired to play the part of a seductress in Anton's new music video, but, in the end, I'm the one being seduced.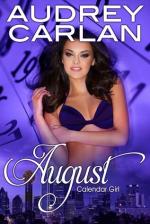 August (Calendar Girl #8) by Audrey Carlan
Pretending. I've always been good at pretending.
Being someone else is easy, and that ability has served me well these last seven months.

This time, I've been hired to be the long lost sister of oil tycoon, and down to earth cowboy, Maxwell Cunningham. Recently, Maxwell's father passed away and in his last Will and Testament he dropped a bomb no one saw coming.

One of the richest men in the world, left forty-nine percent of his company to a sister my client never knew he had. A woman named Mia Saunders.

Maxwell has a year to find this sister or he loses almost half of his empire to a greedy board of investors. Somehow, he found me and here I am.

Sharing in family dinners, pretending to be someone I'm not and fooling bigwigs left and right. Only I'm finding myself falling in love with a family I can never have. One that will hurt to leave.

Stetsons, soul-searching, and sisterly duty all come into a sharp tangle with twists and turns I never saw coming.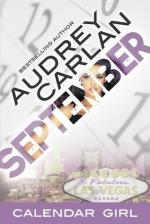 Vegas, Viscous Exes, and Ventilators.

My life felt like a fast ride on a too short highway. Coming home should be roses and rainbows, but nothing that comes out of the desert blooms free. I was most certainly not free. I'd missed my payment to Blaine, owed the last client a hundred grand I didn't have, and my father was on his deathbed. To make matters worse, Wes was missing in action. As in, no one had seen or heard from him in three weeks. Devastation didn't begin to explain where my mental state was at.

Like anything life had thrown my way, I pulled on my big girl panties, not the sexy lacy ones I enjoyed teasing my guy with, but the kind that said, "This ass means business."

I had no choice but to make the decision I made.

My ex, the man that ruined the concept of love for me, put my father in the hospital, was about to get everything he ever wanted…at least that's what I led him to believe.
Silicone, surgery, and Hollywood starlets.

The land of the stars was beckoning and I answered its call. Now that I was free, well, as free as anyone could be, I decided to pursue something for me. To grab life by the horns and ride that sucker until I found my place within it. That decision brought me back home to Malibu, California, where I awaited the beginning of this next phase in my journey.

The job? Create a segment surrounding Living Beautiful for celebrity doctor and daytime television guru, Dr. Hoffman. The man was known for his cunning wit, good looks, and no nonsense lifestyle. In a city that was filled with plastic Barbie dolls, and nothing you touched was real, I set out to find beauty. And in doing so, I found a lot more that, for me, for the man I loved, and for the rest of the nation.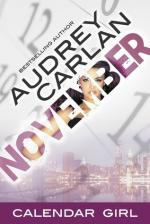 Three things I never expected to experience in the month of giving thanks, but that is just what I received. Wes had survived Hell on Earth, and was back where he was meant to be…in my arms and my bed. For good. There would be no breaking us apart after the trauma we experienced up to this point.

My new job with Century Production sent me to the big apple to interview celebrities for a special segment on being thankful. What is a girl to do when she has an entire host of celebrity friends from her past year of travels? You better believe I called up my friends Mason Murphy, all-star pitcher for the Red Sox, and Anton Santiago, the Latin Lov-ah, to participate. They were all too happy to oblige, only my guy's feathers were a bit ruffled by the ease with which they came running.

Add in my new family and you've got a fairytale Thanksgiving. Except for one tiny detail…the single seat at the table, left open by the hole in my heart that only one person could fill.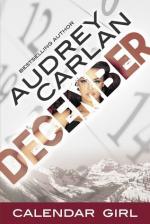 Mountains, miracles, and marriage.

I had no idea what to expect when the producers of Dr. Hoffman sent me to the pristine white mountains of Aspen, Colorado. As the town of Aspen is known for being a winter haven for uber-rich Americans, I knew this desert cactus was going to be way out of her element. The ace up my sleeve however, was a high-class movie-making surfer whose family owned a cabin in those snowy hills. With him by my side, I'd make the most out of the experience.

The job was assigned under unusual circumstances. An anonymous mountain man paid a hefty fee to persuade the producers of my show to send me out for a segment on local artisans. Suited up in my parka and Ugg boots, I put the warmth of the California sun in the rearview mirror and headed to a winter wonderland.

With my newfound family in tow, I was prepared to celebrate the best month the year had to offer…until the one woman who drastically changed my life all those years ago appeared like a shadow out of pure frosted air, shattering my soul all over again.

In the twelfth and final book in the Calendar Girl serial, Mia is off to Aspen, Colorado to film a segment on local artists. Prepare to be wowed as Mia's journey merges into the ending everyone has been waiting for.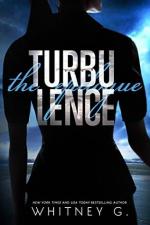 This is the epilogue to the novel Turbulence. It is not a standalone or a novella.

This is us.
This is our messed up love.
This is turbulence.
"There is a vulnerability there, hovering just below the surface. And I want to pick at it until I expose it. Then I want to kiss it."

Two years ago, Emily Burnham, had an epiphany about the shallowness of her life. And she made it her mission to become a different person…a better woman. Out from under the controlling thumb of her mother, Emily is tasting the real world for the first time. And she likes it.

Nixon Caldwell has served his time in the Marine Corps, surviving two brutal tours in Afghanistan. He is back home, surrounded by what he likes best…isolation. It's certainly the best way to avoid confrontation of the consuming guilt that is weighing him down.

When an accident brings Emily and Nix together, he soon learns he is not the master of his own fate. Struggling with his own pain, Nix tries to guard himself against Emily's charms. He wants her in his bed, but he doesn't want her in his heart.

Having grabbed life by the horns, Emily wants it all. But is she willing to accept just the small part of himself that Nix is offering? Can she reach the part of his soul that he has deemed to be Off Limits?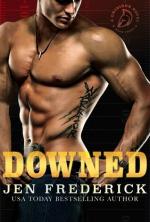 He's the guy no one likes…

Despite winning two national championships, JR "Ace" Anderson was sent packing from his old school after losing the trust of his coach. At Southern U, he has a second chance to prove that his college legacy isn't endless debauchery and selfishness. But his reputation precedes him, and his teammates offer a chilly welcome in the locker room. The one person who is willing to accept him is the very woman he should stay away from—his new coach's daughter.

She's the girl everyone loves…

Bryant Johnson's only goal in life is to make others happy, even at her own expense. One look at her father's new star quarterback, and she knows that Ace is her next project. With a reputation for being a "jerk whisperer", Bryant has spent her last three years at college reforming sorry behavior and turning bad boys into the best boyfriends ever. In Ace, though, she's met with surly resistance and a sizzling attraction she doesn't expect. Fixing this wounded warrior will be her biggest challenge yet. Not falling for him will be even harder.

Between her big heart and his damaged one, a battle is ensuing. In this game of love, every defense will crumble.
Ever Montgomery suffered the ultimate betrayal by the one man who she should have been able to count on for anything. It has left her hurt, jaded and incapable of forming relationships, but it also means that she can spot a liar a mile away. These traits are earning her a reputation as a reporter with a keen nose for a good story and a complete understanding of the extreme power of the written word.

Lincoln Caldwell, is the hot goalie for the New York Rangers. At twenty-four and a rising star, he works hard and he plays even harder. He's gorgeous and carefree--the ultimate charmer. Ladies fall at his feet and the single life has never been lived the way Linc Caldwell does it.

When Ever publishes an article about Linc containing information that she received off the record, she finds herself on the receiving end of the athlete's fury. Rather than basking in the glory of exposing Linc as a shameless user of women, she finds herself at his mercy when he demands and receives retribution. Required by her editor to trail Linc for six weeks, Ever is forced to look at the real Linc Caldwell.

And she just might find that she has misjudged him.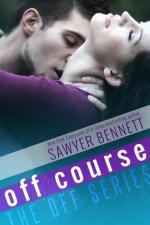 Renner Caldwell has her life perfectly mapped out. She has the ideal relationship, the perfect job and all is right in her world. When a shameful turn of events happens, she boards the first plane bound for Ireland to lick her wounds and get her head back on straight.
Cillian O'Bradaigh is the sexy, front man to the Irish rock band, Over The Edge. His rising fame and sultry voice make him every woman's fantasy come true. Not to mention his single-minded determination. To put it simply: what Cillian wants, Cillian always gets. And he wants Renner, because there's just something about the flame-haired beauty he has to possess.
If their relationship was just about sex and rock n' roll, it would be easy for them to get lost in their desires. Only their relationship is anything but a hook-up. Will lies, deceit and hidden tragedy get in the way, making the path to true love uncertain? Or will the girl whose been knocked Off Course, find her footing with the man who is teaching her it's okay to lose control?