🔥🔥 JANUARY 2017 EPIC MULTI-AUTHOR GIVEAWAY 🔥🔥
January NYT & USA Today Bestsellers signed paperback giveaway! 7 signed paperbacks, 1 Erin Condren Planner and 2 Winners!
→ TO WIN SIGNED PAPERBACKS:
Signup to receive newsletters from the authors, and you are automatically entered to win!
➜ http://bit.ly/Jan17EpicGiveaway
→ TO WIN THE ERIN CONDREN PLANNER:
SHARE this post w/ hashtag #EPICROMANCEBOOKS then LIKE and COMMENT below so we know you did.
🔥🔥 NEW RELEASES 🔥🔥
FULL PACKAGE by Lauren Blakely: http://amzn.to/2jJNxi2
(1/15) OFFENSIVE REBOUND by MJ Fields: http://amzn.to/2ioF486
(1/16) EGOMANIAC by Vi Keeland: http://amzn.to/2jJAb5A
(1/16) LOVE IN LINGERIE by Alessandre Torre: http://amzn.to/2jJPlrz
(1/17) HOME RUN by Heidi McLaughlin: http://amzn.to/2ioGWxz
(1/17) BIG SHOT by Carly Phillips & Erika Wilde: http://amzn.to/2ioNigj
(1/18) FRICTION by Emily Snow: http://bit.ly/2jvDJZK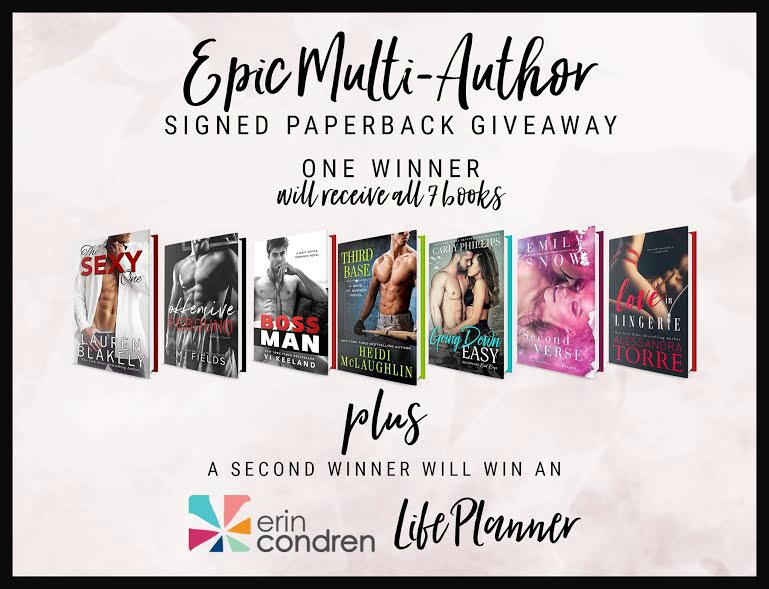 Facebook is not responsible for this promotion. Giveaway runs 1/15/2017 through 1/31/2017. Winner will be selected via random.org and notified via email or FB message.