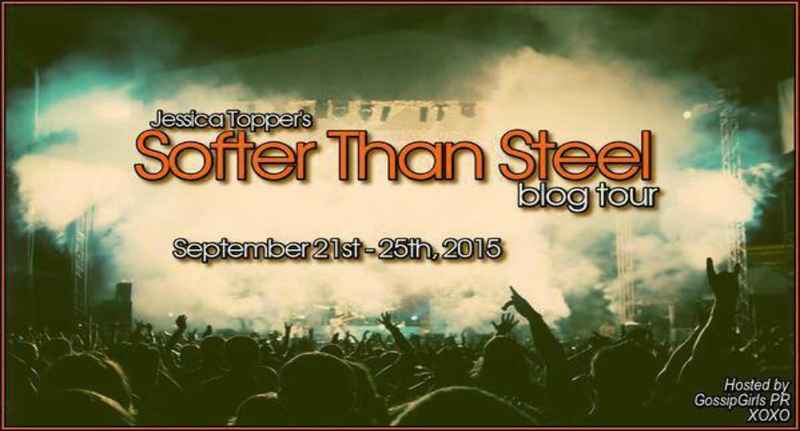 Softer Than Steel – Jessica Topper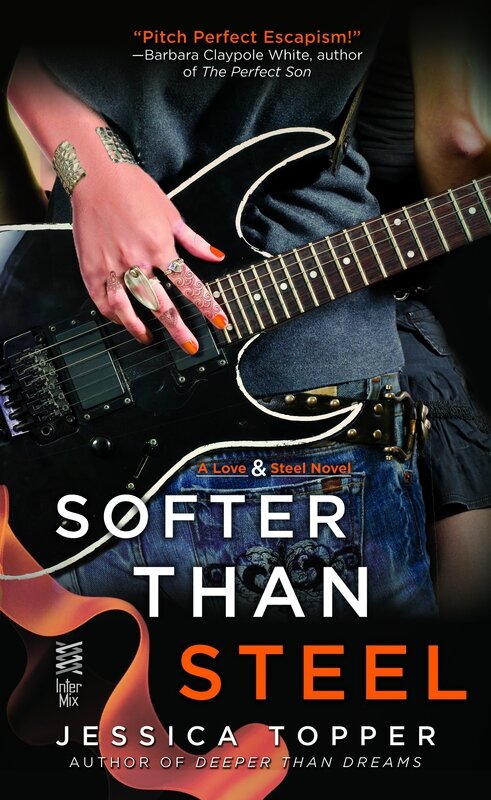 Expanded blurb:
Under the liberating guise of his alter ego 'Riff Rotten', Rick Rottenberg has circled the globe playing sold-out shows and sampling the universal delights that fame and fortune allow a rock star of his caliber. But he can no longer ignore the panic attacks plaguing him with increasing regularity. Not knowing where else to turn, Rick finds himself turning a doorknob – entering not only into the spiritual world of yoga, but into a retro world of rock music he had long abandoned as well. Revolve Records reminds him of why he picked up a guitar in the first place, and he hopes that Evolve Yoga – and its sexy owner - will help him forget everything else.
Swearing off musicians has been Sidra Sullivan's mantra ever since a charismatic singer with a bad case of LSD (Lead Singer Disease) blocked her chakras and closed off her heart. The last thing she wants is another huge ego in tight pants hanging around, consuming her time and attention. But when Rick makes an offer to save her family's historic Lower East Side building in exchange for her help, she begrudgingly makes an exception.
As she works him up to more challenging poses, he begins to wear down her walls of protection, challenging her to see him in a different light. She, in turn, teaches the steeled, seasoned rock warrior to soften his stance and find strength from within. But when a rock and roll power play threatens to disrupt the delicate balance that has grown between them, Sidra must decide whether to follow her head and fight, or to open her heart and fly.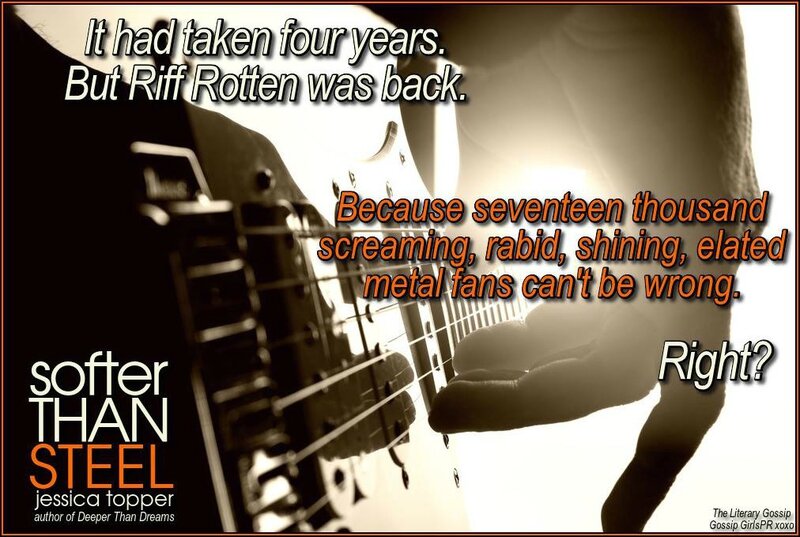 Softer Than Steel excerpt #1 - sexy
"Erm, luv . . . do you realize there's a shoe nailed to your wall?"
The gentle kisses between her breasts had felt like a dream, but the vibration of Rick's voice and his breath on her skin both warmed and awakened her.
"Yes, it's my flip-flop." The gorgeous guy who had shared her bed for the second night in a row was now working his way down her body. Sunlight streamed through the windows, bronzing his strong shoulders. She captured one of his curls between her fingers as it tickled its way across her tummy and lazily twirled it. "You're only noticing it now?"
"My mind is usually elsewhere when I'm in your bedroom, luv. As is my mouth."
Sidra groaned, twisting his hair in her fist. "Talk about driving your point home," she panted as his tongue darted against her tightest, most tender spot. "Oh, my . . ." His arms gripped her thighs as he lifted her.
"I could drink from you all day, Goddess."
Those dark eyes flicked a glance at her so intense, she nearly came on the next long lap of his tongue. But he wasn't nearly through with her. He kissed her very tip, making her tremble and buck up against him.
He licked slow circles around her glossy core, stroking out each whimper and sigh as his personal prize. Heat spiraled in her belly, and her breasts ached. She ran her hands over them, marveling at their heaviness, before plunging her fingers into his hair. He groaned, pulling her against his mouth and sucking her sweetly.
"Make love to me." She had never wanted anything like she wanted him inside of her now. Her whole being begged for him. "Rick . . ." She summoned, and he responded, climbing her gently, sliding kisses across her hips, her nipples, her throat, covering her with his lean, hard frame.
Softer Than Steel excerpt #2
"Making music has got to be like . . . like childbirth, bringing something totally new into the world like that. Isn't that scary?"
Rick contemplated her comparison and she waited, watching him with those incredible eyes, both dark and bright. "Yes, in a way it's bloody terrifying," he admitted. The creating and the coaxing, making sure what you envisioned in your head translated into reality and not just a shadow of itself. "But the excitement and exhilaration trumps the fear." He popped a pair of headphones on her ears and backed out of the room with a grin.
Behind the console, he flicked switches, adjusted levels, and pressed the talkback button. "Pay no attention to the man behind the glass," he whispered, but Sidra's broad smile told him the console mic had sent his fluid murmur to her ears crystal clear.
She tentatively tapped the double-mesh screen of the microphone in front of her. "But don't you worry, once it's out in the world . . . what everyone thinks of it? Of you?"
"I used to get caught up in it. But you've just got to trust and make peace with the fact that you put in—and put out—your very best effort."
The track he chose for her flowed not only through her headphones, but the speakers of the console in front of him as well, its beat and melody causing the indicator lights to jump and fall in time. Sidra's eyes closed and her frame rocked slightly. To me, Rick thought.
That's my music, moving her.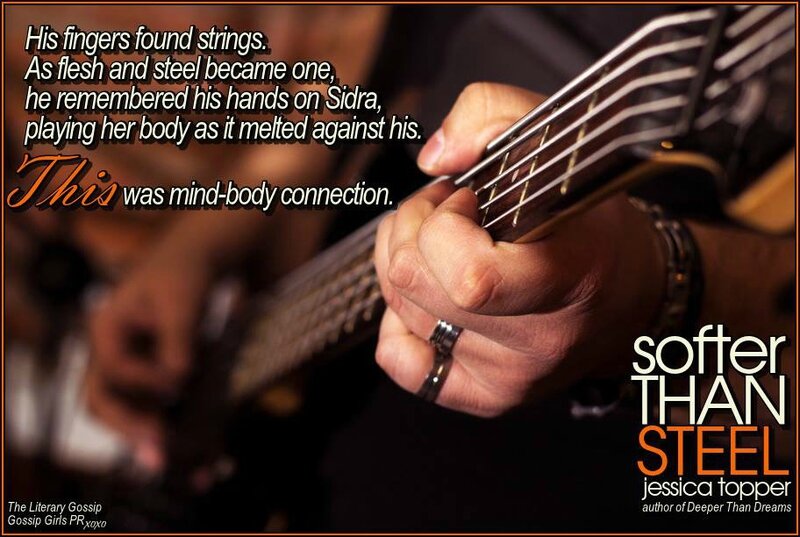 BUY LINKS
Amazon: http://amzn.to/1TJBtdp
Barnes and Noble: http://www.barnesandnoble.com/w/softer-than-steel-jessica-topper/1120921381?ean=9780698192287
iBooks: https://itunes.apple.com/us/book/softer-than-steel/id952395071?mt=11
Google Books: https://books.google.com/books?isbn=0698192281
Kobo: https://store.kobobooks.com/en-US/ebook/softer-than-steel
Books-A-Million http://www.booksamillion.com/p/Softer-Than-Steel/Jessica-Topper/Q222228461?id=5810074656009
Penguin: http://www.penguinrandomhouse.com/books/318020/softer-than-steel-by-jessica-topper
Softer Than Steel Playlist:
"Gimme Sympathy" - Metric
"Shipping Up to Boston" – Dropkick Murphys
"Fool in the Rain" – Led Zeppelin
"Downward Facing Dog" – moe.
"The Weight of Words" – The Town Pants
"Dil Nachde" – Delhi 2 Dublin
"I Wanna Be Sedated" – The Ramones
"Hungry Like the Wolf" – Duran Duran
"Boulevard of Broken Dreams" – Green Day
"Lover, You Should've Come Over" – Jeff Buckley
"Brother Down" – Sam Roberts Band
"Spinning" – Zero 7
"Bohemian Rhapsody" - Montserrat Caballé and Bruce Dickinson
http://open.spotify.com/user/12154328/playlist/1BfaBx9BU1Dkf5sHURoItY
(link might not auto-load from word doc – cutting and pasting into browser should work)
Author Bio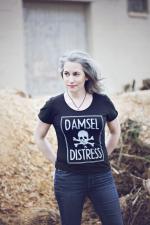 Jessica Topper is an ex-librarian turned rock n' roll number cruncher. She can trace her love for the written word back to age three, when she memorized Maurice Sendak's "Chicken Soup with Rice" in its entirety.

After her daughter was born, Jessica left the Manhattan library world and began working for her husband's music management company. He offered her a part-time bookkeeping job so she could "stay home for the baby's first year" and pursue her dream of writing.

The baby is now thirteen, and Jessica has been working her full-time, sold-her-soul-for-rock-n-roll job as Office Manager for veteran jam band moe. ever since. She may have traded in books for bookkeeping, but the written word is never far from her mind, or her heart.

Jessica lives in upstate New York with her husband, daughter and one ancient cat. You can visit her at www.jessicatopper.com.