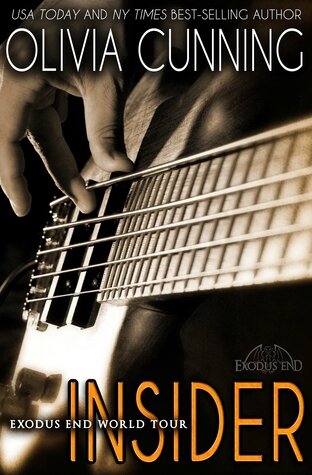 Toni wants to be an insider.
Logan just wants inside her.

She's finally ready to rock...
Toni Nichols set aside her dreams to raise her little sister, but now she's reaching for the stars as the creator of a revolutionary interactive biography about Exodus End. She's on tour with the rock band to immerse herself in their world, but how will she ever gain the trust of four veteran superstars who've been burned by the media before? Nobody said this was going to be easy. Then again, good things can come in hard packages.

He's always ready to roll…
Adrenaline junkie Logan Schmidt lives for the rush of playing his bass guitar before thousands of screaming fans. When he's not performing onstage or in the bedroom, he's looking for his next thrill in extreme sports. So why does a sweet, innocent journalist get his heart pumping and capture his full attention? Is Toni the real deal or just digging up dirt on his band? Logan's eager to rock Toni's world and roll her in the sack, but when she starts to get too close to his heart, she takes her insider look to a place he may never be willing to go.
Review
I really really wanted to read this book and when I saw that it was available on NetGalley I requested it...but with no answer I "one clicked" it on Amazon and read it...but a few day after I've got an email from NetGalley that I've got an ARC ahah so it's an ARC but not really an ARC
I have a huuuuge weakness for Rockstar/Musican book! And I love Olivia Cunning's writting So I couldn't not read this one. If you know her, you know that she had skills for writting the most hot and sexy sex scene in the whole world! No i'm not kidding! This book is no exception! It's hot, sexy, funny & sweet sometimes.
Logan is all you thinkt when you think of a rockstar! Talented, manwhore, an asshole sometimes... but he's also a great man, thoughtful and one hell of a dirty talker!
Toni is smart, beautiful (but she don't know it) and lonely. This is her first job. She's going to live with the band because she's writting about about them. This is the chance of her life! Toni didn't have a easy life. She lost her dad, she took care of her little sister while her mom was working.
The chemistry between Toni & Logan is obvious. They can't help it even if Toni know it's a bad idea. For a virgin, she have no fear lool The sex between them is hot and funny at the same time!
I love that we can read a lot of interactions with all the differents characters in the serie! I love this kind of serie. Each member's gonna have his own book. But yeah there is a but... Something is missing for me...I don't know what exactly... Toni, maybe?
So If you want to read a hot, sexy and funny romance, go for this book, you can't be dissapointed! Without a doub, I'm gonna read the next one :))
3/5