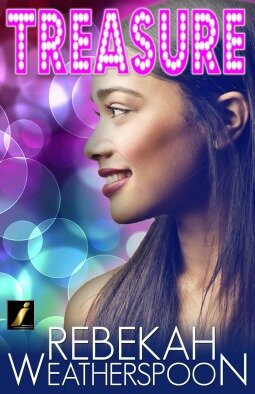 Her sister's bachelorette party is the highlight of a miserable year for Alexis Chambers, but once her bridesmaid's dress is packed away, she's back to coping with her life as a once popular athlete and violinist turned loner and the focus of her parents' disappointment. She isn't expecting much from her freshman year of college until she finds herself sharing a class with Treasure, the gorgeous stripper from her sister's party.

Trisha Hamilton has finally gotten the credits and the money together to transfer to a four-year university. Between classes, studying, and her job as a stripper, she has little time for a social life, until she runs into the adorably shy baby butch from the club. Trisha can't seem to hide her feelings for Alexis, even when Trisha discovers what she has been through, but will Alexis have the strength to be just as fearless about their new love?

Review
I looooved this story. It's a beautiful story between two young women with different character and not so easy past but they fit perfectly. When they meet in a stripclub, the chemistry between them is there ... and a few week later, they end up in the same class in college ... Trisha is a strong woman, Alexis is a "little awkard and has a difficult relationship with His Father.
This book is very well written, the scenes are sensual and sexy but not too much, just perfect.
NB: Before reading this book I didn't know that it will be a story between two women, Yeah yeah Alexis is a boy name here in France ahaha and I hadn't read the blurb from the editor ^^
4/5