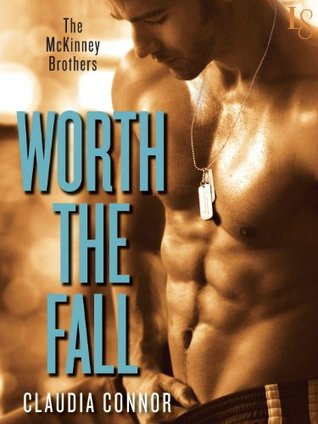 They meet on a beach. . . . Abby Davis isn't wearing a skimpy bikini or sipping umbrella drinks, not when she's busy chasing around four little ones. And Matt McKinney isn't looking for fun—he's a Navy SEAL, a grown man with a long list of missions . . . and fallen brothers.

They only have a week. . . . Abby has brought her children to this beach to start over, to give them the enjoyable memories they deserve. Matt's been sidelined by a combat injury, and haunted by the best friend he lost and the promise he made: to remain a SEAL—focused and dedicated. This leaves no time for what he's always wanted: a family.

But a week is all it takes. . . . Matt opens her heart while Abby soothes his soul. And though they plan to say good-bye when the week is over, something magical happens on that beach, something neither can forget. Something utterly, completely worth falling fo
Review
I loooved this book. Matt is a Navy Seal.
Matt is a Navy Seal, he was sidelined for an injury in combat and is haunted by the loss of his best friend in combat as well as the promise he made to him. He meets on the beach Abby, mother of 4 children and pregnant with a 5th. The story is beautiful, heroes had hard past and a lot of insecurities. They are very endearing.
I recommend this book.
4/5